The iriver Story HD is the first e-reader integrated with the open Google eBooks platform, through which you can buy and read Google eBooks over Wi-Fi. The 6-inch XGA (768×1024) eBook reader offers 63.8% more pixels and claims faster page turns than its competition.
The iriver Story HD is slim and lightweight e-reader with a high-resolution e-ink screen and a QWERTY keyboard for easy searching. It includes over-the-air access to hundreds of thousands of Google eBooks for sale and more than 3 million for free. With the Story HD you can now browse, buy and read Google eBooks with your e-reader through Wi-Fi, rather than downloading and transferring them from computer to e-reader with a cord as you can already do with more than 80 compatible devices.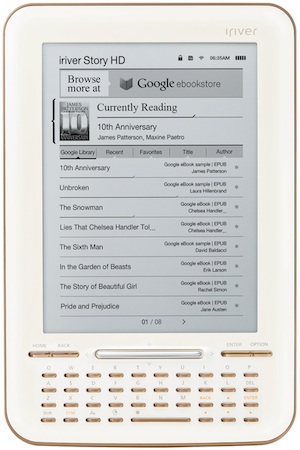 The iriver Story HD provides outstanding legibility with crisp fonts, fast response and high performance with an advanced i.MX508 eReader applications processor from Freescale Semiconductor based on ARM Cortex technology and automatic, built-in Wi-Fi.
The Story HD will also be equipped with the Easy Wi-Fi Network feature so that users can access any open or subscribed Wi-Fi hot spots automatically without log-in process. Easy WiFi is the the world's largest WiFi network, and with the network supporting thousands of providers, users can also personalize access by extending Easy WiFi to any personal WiFi accounts as well. The service features a map to locate hot spots, classified by capability. Users can find hot spots, get connected, and personalize access.
The slim and lightweight e-reader features the signature; sleek, iriver style, QWERTY keypad, a curve with two-tone colors at the front and back for easy grip and slim design. The Story HD has buttons located from the side to the center of the keypad, featuring the up/down layout instead of the right/left design to make the unit more user friendly than other eBooks — other models feature the right/left buttons for flipping pages.
The iriver Story HD has a 3-week battery life, making it ideal for travel, and supports Adobe EPUB and PDF formats with DRM.
In June 2010, iriver and LG Display established a joint venture for the OEM development production and sales of e-Books. Iriver is responsible for product design, accumulated knowledge on e-book technology, including designs and platform development, as well as technical assistance within the joint-venture. LG Display, with its global sales network and world class production skills, provides a stable supply of e-book displays, such as electronic paper displays (EPD).
Price and Availability
The iriver Story HD e-reader will be available Sunday, July 17, 2011 in Target stores nationwide and on Target.com for $139.99.