IOGEAR announced the USB Theater Sound Xperience (GUADT51), the first USB audio adapter with DTS Surround Sensation | Headphone technology. Connecting directly to a computer's USB 2.0 port, the IOGEAR USB Theater Sound Xperience simulates a surround sound experience on stereo headphones or speakers.
Utilizing a transparent vacuum tube-style design – a classic look for audio enthusiasts – the USB Theater Sound Xperience takes two-channel (stereo) audio and processes it with DTS Surround Sensation | Headphone technology to give the effect of sounds occurring outside the boundaries of two channels. Audio cues such as special frequencies, volume intensity and time delay help create the USB Theater Sound Xperience.
Audio that is already encoded in 5.1-channels gains more life with the LFE (low frequency effect) mixing, which enables low frequencies to be mixed with front channels for superior performance. The result is a three-dimensional wall of DTS virtual surround sound that exceeds the limitations of just two channels.
Three proprietary DTS Surround Sensation technologies are present in the IOGEAR USB Theater Sound Xperience:
Voice Clarification Technology: Enhances the signal clarity to improve the audio quality of dialog derived from Blu-ray Disc or standard DVD
Bass Enhancement Technology: Restores the perception of fundamental low-frequency tones by dynamically augmenting harmonics, yielding improved bass performance without the additional hardware costs of adding a subwoofer
Soundstage Expansion Technology: Broadens the soundstage and creates a phantom center channel for improved clarity and audio crispness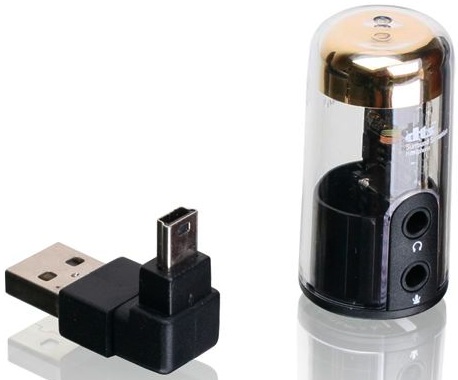 The USB Theater Sound Xperience offers music and movie modes that optimize the listening experience for music or dialogue and sound effects driven content. Two 3.5mm jacks are provided for stereo microphone-in and stereo headphone-out connection.
"Consumers who use their computers for watching DVDs and listening to music can provide a significant boost to audio performance with the IOGEAR USB Theater Sound Xperience," said Bill Nguyen, senior marketing manager for IOGEAR. "Sometimes having five speakers or $500 headphones is not practical, so we created a surround sound alternative."
Brian Towne, executive vice president and chief operating officer, DTS, Inc., added, "Simply put, sound matters to consumers who are enjoying content across many devices, especially their computers. With the recent availability of IOGEAR's USB audio adapter, consumers will finally experience the immersive and spacious sound that they've always wanted from their PC devices."
Price and Availability
The USB Theater Sound Xperience retails for $39.95 US MSRP and is available from Shop.IOGEAR.com, Amazon.com and other online retailers now.