An affordable alternative to interactive whiteboards
InFocus® Corporation announced its second-generation interactive projectors, the IN3914 and IN3916. The advanced InFocus LiteBoard interactive technology lets teachers, students, trainers and presenters interact with projected images on any surface from anywhere in the room, whether at the screen or from up to 40 feet (12.2 meters) away. InFocus makes it easier and more affordable to use interactive digital content in the classroom and conference room to inspire, engage, and collaborate.

Ergonomic Wand Works Like a Mouse with Any Software – at the Screen and Away
Both IN3900 series projectors include the new ergonomic LiteBoard Wand, which is comfortable to hold and easy to use by children and adults, making interactive learning and presenting more accessible. Since there's no need to touch the wand to the image directly, people of any height, including small children and wheelchair users, can fully interact with the displayed content. Just like a computer mouse, the LiteBoard Wand controls the cursor and has right and left mouse buttons, a scroll wheel, and an undo button. It works with PCs and Macs and no special software is required.
Unlike interactive whiteboards or interactive projectors from other manufacturers, the IN3900 series eliminates the need for time-consuming calibration. When the wand is in use, motion stability algorithms assure smooth cursor movement by analyzing the size of the projected image, distance from the screen, and angle of the wand.
Short Throw Projection for Flexible Room Design
The IN3900 series of short-throw projectors can be used from a table top, media cart, wall mount or ceiling mount with the ability to project images up to 5 feet (1.5 meters) wide with the projector only 3 feet (0.9 meters) away. The maximum projected image size can be as large as 12.5 feet (3.7 meters). The space-saving short-throw projectors reduce shadows, especially since users don't need to be at the screen to interact. The IN3900 series can project images on any surface with optimized brightness and color temperature settings whether projecting on screens, whiteboards or lightly colored walls.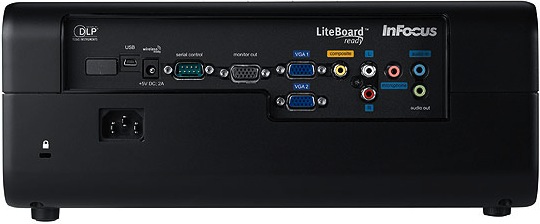 Fill the Room with Superior Sound
The IN3900 series delivers best-in-class audio with its 20-watt stereo sound, advanced audio processing, a dedicated microphone input, and assignable audio sources. This powerful system eliminates the need to hook up external speakers and enables everyone in the room to clearly hear a video or other audio. The narration feature ensures the presenter's voice will be heard over audio tracks embedded in presentations or videos.
Connectivity for Collaboration
Both projectors connect with PC, Mac, and video sources commonly used in classrooms and conference rooms. The IN3916 projector provides superior connectivity, including USB, HDMI, LAN, and RS232. Its moderator feature allows up to 32 computers to connect to a single projector using either a network or wireless connection. The moderator has the ability to view all connected PCs from a web page and select which computer screens to project. Four computer screens can be projected simultaneously.

Product Brochure (pdf)
Software to Make Interacting Easy and Fun
The IN3900 series includes free PC and Mac education and collaboration software from WizTeach Interactive to help users get the most out of interactive projection. The education version of the software includes drawing, math, geography, literacy, and curriculum-building tools. The collaboration version includes annotation, productivity, and screen-capture tools. Both versions work with web browsers and other applications that teachers and professionals use every day.
Availability
The IN3914 (XGA, 1024×768) model is available now for $1,225.
The IN3916 (WXGA, 1280×800) model will be available in September for $1,425.