Harman has released the harman kardon HK 990 integrated stereo amplifier, the most muscular amplifier to bear the harman kardon brand name. It packs more power than ever before, and it is capable of driving the most demanding loudspeakers effortlessly. Designed to outfit the audiophile's music collection, the amplifier — winner of the EISA (European Imaging and Sound Association) award — employs the latest technology for preserving sound quality.
Dual subwoofer outputs, high current capability, and fourth-generation Real-Time Linear Smoothing (RLS IV) technology allow the system to play a track with the same sound quality as its original recording. Equipped with EZSet/EQ II technology, the HK 990 gives users the ability to tune the audio system for the room it's in.
Features
High-current capability drives and controls nearly any loudspeaker system
Low negative feedback for further improved dynamic accuracy
Dual subwoofer outputs to connect up to two active subwoofers
Dual-path technology allows for pure analog or pure digital audio processing within the same product
2.2-channel EzSet/EQ II room optimization

High-current, ultrawide bandwidth design for uncompromised realism
The 150-watt HK 990 stereo integrated amplifier outputs a cleaner, louder and more powerful sound than most amplifiers from other companies. The reason is simple. By utilizing something called high-current capability (HCC), which provides the instantaneous current necessary to precisely drive and control nearly any loudspeaker system, the HK 990 can accommodate more headroom during dynamic program peaks, influencing tighter bass and a superb transient response – at any volume level. The benefit? Heightened realism for whatever music, movies and multimedia you might be listening to.
Optimize performance with Real-Time Linear Smoothing (RLS IV)
Designed to push the performance quotient even further beyond typical harman/kardon® standards, Real-Time Linear Smoothing (RLS IV) is a feature that minimizes interference in digital-to-analog signals with two high-grade stereo analog devices (AD) 1955 DACs. The result? Richly detailed sound and noise level that remains in a non-audible frequency range with very high jitter rejection. This way, you'll always experience sonic refinement and a natural open sound stage – two benefits that should appeal to the most demanding of audiophiles.
EzSet/EQ II takes control of your settings – automatically
Sit back, relax and let the HK 990 set the room's mood automatically thanks to EzSet/EQ II's room-equalization and system-calibration technology. Simplify system setup with the touch of a button while ensuring the most optimal listening environment possible, in just minutes. EzSet/EQ II even sets speaker volume, speaker balance and timing as well for your system's 2.2-channel surround-sound speakers. By automatically adjusting sound to suit your specific room conditions – including directing sound toward listeners in the ideal, seated position – EzSet/EQ II consistently proves that it knows how to read the room.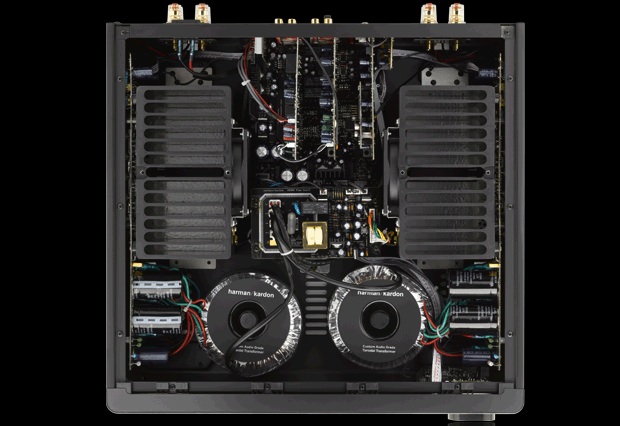 Get in sync with an HRS link
As one of the features that make the HK 990 a top-of-the-line audio system, high-resolution synchronization link (HRS link) lets harman/kardon® CD players lock themselves to the external clock of the amplifier to ensure a jitter-free connection. Similar to having the CD playback inside the amplifier, the HRS link carries both the system and data clocks of the amplifier, and the data stream from the CD player. As a cutting-edge feature that's fairly standard in high-end professional audio equipment, the HK 990's HRS link is designed to appease even the most discerning audiophiles.
Minimize signal disruption wherever possible
When you're listening to audio, you want to have as little signal disruption as possible. With the HK 990's XLR inputs, you get balanced connections designed to reject both external noise (from power wiring, etc.) as well as internal crosstalk from adjacent signal cables. In addition to discriminating against noise and crosstalk, your XLR inputs also allow 6 dB more signal level on the line – so ultimately you'll get a higher signal-to-noise performance than before.
Price and Availability
The harman kardon HK 990 is available now for $2,599.