Griffin Technology Inc. introduced their next generation compact, multi-use dock, the PowerDock Dual (model GC23126) which allows simultaneous charging of iPad and iPhone (or iPod).
PowerDock Dual is not just another charging dock for iPad and iPhone; it's also a place for your stuff. The contents of your pockets–your keys, change, guitar picks–they all go in PowerDock Dual's built-in valet dish, while your iPad and iPhone (or iPod) both get a seat of honor on the built-in charging docks.
You get an unobstructed view of the screen while your iPad (and iPhone or iPod) gets its battery charged. Even the speakers of your device are unobstructed so you can listen while you watch. It's perfect for bedside entertainment or for a quick reference on your countertop. PowerDock Dual features flexible dock connectors with low-profile backrests to support your devices while minimizing wear and tear on the connectors. An included AC adapter provides the 10 watts needed to charge your iPad, and 5 watts of fast charging for iPhone or iPod.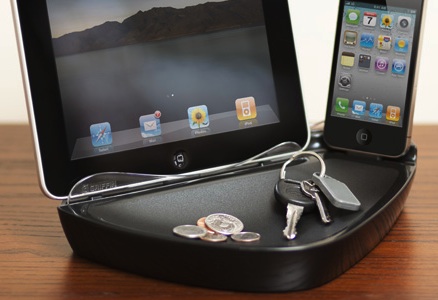 PowerDock Dual puts your iPad and your iPhone or iPod there at a glance and ready to go; all your most important stuff, right where you need it. And it even keeps track of your car keys.
Pricing and Availability
PowerDock Dual, $59.99, is now available at Apple Retail Stores.