More Compact Designs Are Big on Value and Capabilities
Gateway introduced smaller, more powerful back-to-school desktop PCs featuring leading technologies ideal for productivity, entertainment and digital photography. From the tiny small form factor SX Series to the compact DX Series mini-tower line, Gateway's new desktops are big on value, power and features. Complementing these desktops are Gateway's FHD Series of monitors featuring a new edge-to-edge glass design.
"Bigger isn't necessarily better when it comes to desktop size, especially in a cramped dorm room," said Glenn Jystad, senior manager, desktop products, Gateway. "Our smaller models include more than enough capabilities and leading technologies for the vast majority of students and general consumers, and help save costs and space."
Lifestyle Enhancing Features
Big on user-friendly features, both SX Series and DX Series PCs include several unique design elements that address how people use computers today, making the overall computing experience more convenient and intuitive.
Families and photo buffs managing large amounts of digital images will find Gateway's unique "digital photo frame" button one of their favorite features on both of the new PCs. With a single touch, it delivers a slide show of favorite photos, perfect for displaying and enjoying new baby pictures, wedding or vacation photos.
To make transferring photos and other data to the PCs easier, Gateway included a handy "device deck" on the new systems. This small recessed area on top of the chassis is the perfect spot to set a camera, MP3 player or camcorder while connecting to USB ports and downloading media.
In addition, the front access digital media card reader can be tilted upward, so it can be easily seen and accessed if the chassis is placed under a desk; a rear cable management hook makes it easy to organize cables running from the rear ports; and a grip on the backside of the chassis makes it easy to pick up and move the systems from location to location.
SX Series Desktops
Gateway's first small form factor desktop line, the SX Series, delivers all the power and technology needed for general productivity use and casual gaming, in a tiny size. Small enough to fit nicely in a small dorm room or placed inconspicuously in a kitchen or the family den, it's an ideal solution as a primary or secondary PC.
The first model available in the series is the $499.99 Gateway SX2800-01, which offers a powerful Intel C2Q 8200 processor coupled with 4GB of memory for quick system response and powering through productivity and multimedia applications with ease.
Integrated Intel Graphics delivers vibrant video, making it perfectly suited for watching movies, home video, viewing digital photos, or casual game playing. Home theater enthusiasts will appreciate the HDMI port, which delivers the highest quality visuals and high-fidelity audio to a big screen TV or external LCD through a single cable.
The new Gateway SX2800-01 will be available the last week of June at select retailers throughout the U.S. Additional models in this line will be available soon.
DX Series Desktops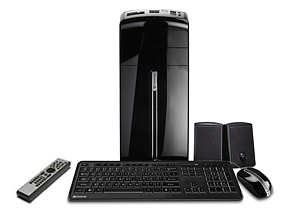 Gateway's new DX Series models are multimedia and entertainment powerhouses. Offering a choice of AMD or Intel Dual- or Quad-Core processors, massive amounts of memory and gigantic hard drives, these compact mini-towers deliver extreme performance and incredible system response to power users' intense demands.
Whether students are dominating the latest games, watching streaming video or editing data for school assignments, the DX line provides all the power needed to handle processor-hungry multimedia applications.
Cutting edge audio and visual entertainment features make the new DX models the ideal desktops for all types of digital entertainment and serious graphic applications. Smooth video playback with extraordinarily detailed environments and film-quality game effects are achieved through NVIDIA GeForce graphics. Theater-like sound is delivered through 8-channel high definition audio support.
The DX Series also offers expansion capabilities, including two external 5.25″, three internal 3.5″ bays and numerous expansion slots for full size video cards, wireless LAN or advanced audio cards (two PCI, one PCIE x1 and one PCI-E x16).
The new Gateway DX4300-03 (MSRP: $749.99) and DX4820-02 (MSRP: $899.99) mini-tower PCs will be available the last week of June at select retailers throughout the U.S.