11-inch Ultraportable Laptop with Integrated DVD Drive
The new Gateway EC Series ultraportable notebook PC line is expanded today with new EC14D configurations that include an integrated DVD drive — a feature that is rarely found on compact notebooks with an 11.6-inch widescreen display.
"The integrated DVD drive in such a compact device will be a huge benefit for customers who want the flexibility to enjoy and share different movies, music, photos and more stored on a DVD or CD."
The addition of an integrated DVD drive makes the popular EC14D line even more feature-rich for students, families and anyone on the go. Designed to be the ultimate line for mobile enthusiasts, the new ultraportable line comes in a very portable form factor that weighs only 3.55 pounds so it's easy to take on the go in a book bag or backpack.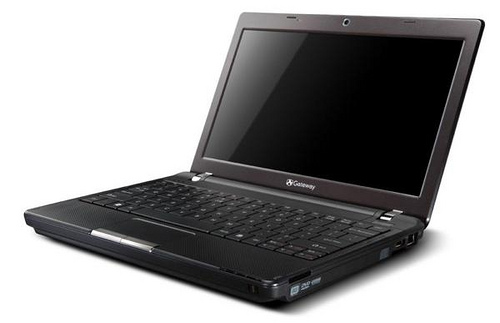 "Customers understand how convenient it is to have a notebook PC that is portable enough to take nearly anywhere to stay connected and have fun — and the new EC14 brings a new element of entertainment to customers with the ability to watch DVD movies, play games on CD and DVD and more," said John Nguyen, product marketing manager for Acer America. "The integrated DVD drive in such a compact device will be a huge benefit for customers who want the flexibility to enjoy and share different movies, music, photos and more stored on a DVD or CD."
The 8X Super Multi double-layer DVD drive lets customers read all types of DVD and CD media, so they can enjoy popular movies and games while on the go, as well as have access to music files and photos for downloading and sharing on websites.
Optimized for Mobile Connectivity
Savvy mobile PC users will appreciate that the new Gateway EC14D ultraportable was designed from the ground up to deliver the maximum battery life for on-the-go computing. Available with a 6-cell battery, the Gateway EC14D notebook line provides battery life of up to eight hours, so customers can use it nearly all day to stay in touch. As a result, customers reduce their energy consumption since they go longer without having to recharge.
Poised to take advantage of this extra battery uptime, the Gateway EC14D notebooks come with the latest in connectivity — a reliable and far-reaching 802.11 b/g/N Wi-Fi connection. With it, customers can access hot spots at restaurants, coffee shops, hotels and at airports in order to browse the news, check weather, reply to email and stay connected.
Abundant Features and Technology Packed into a Compact Design
Small business owners and professionals who want to remain productive on-the-go will find the Gateway EC14 ultraportable notebook the ideal choice for them. The large 11.6-inch HD TFT LCD display delivers a 1366×768 resolution for crisp and clear visuals. Its large size relative to the form factor gives plenty of room for viewing multiple applications and documents while also making room for a full-sized keyboard for typing with ease.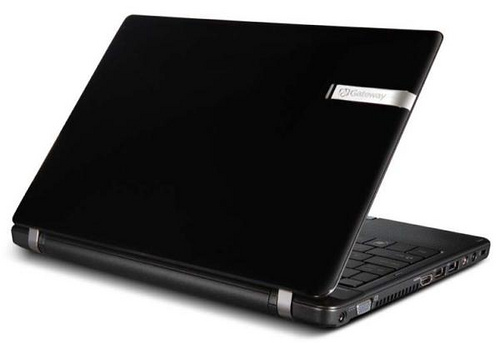 Customers can use the built-in webcam to record video and photos and post them to video and photo sharing sites, blogs and social networks like Facebook and YouTube. Customers can also stay in touch via video chat, while enjoying excellent voice quality with reduced background noise through the built-in digital microphone.
Powered by an Intel Ultra Low Voltage Pentium Dual Core processor, the Gateway EC14D line is ready to take on web browsing, movie viewing and running everyday applications. Also, the notebooks come with a 320GB hard drive, a multi-in-1 media card reader and 4GB of memory that may be upgraded to 8GB (requires two 4GB modules).
The sleek, modern design captures the essence of mobile computing, while details such as rounded edges, engraved logo and silver trim make the design even more eye-catching. The textured palm rest provides a comfortable hand rest for consumers.
Gateway EC14D models come with Windows 7 Home Premium, which makes mobile computing more reliable and responsive, enhancing the user experience. In addition, the Gateway EC notebook line is Energy Star qualified.
Configurations, Pricing and Availability
The Gateway EC14D will be available later this month at leading retailers starting at a manufacturer's suggested retail price of $629.99.
Gateway EC14D07u:
Intel Pentium ULV Processor SU4100 (1.3GHz, 2MB L2 cache, 800MHz FSB)
Windows 7 Home Premium (64-bit)
11.6-inch HD Widescreen Ultrabright LED-backlit TFT LCD (1366 x 768 resolution, 16:9 aspect ratio)
Mobile IntelGS45 Express Chipset
Intel Graphics Media Accelerator 4500MHD
4096MB DDR2 Dual-Channel 667MHz memory upgradeable to 8GB
320GB 5400RPM SATA hard drive
Integrated 8X Super-Multi DVD player
Integrated webcam
Multi-in-1 digital media card reader
Intel Wi-Fi Link 1000 802.11b/g/Draft-N WiFi CERTIFIED featuring MIMO technology
Gigabit Ethernet LAN
Three USB 2.0 ports
HDMI port
Multi-Gesture Touchpad
Standard 6-cell Li-ion (5600 mAh) Battery
3.55 lbs.
11.49″ (W) x 1.12″ to 1.18″ (H) x 8.33″ (D)
New Gateway EC58 Models Are Sleek and Slim with an Impressive 15.6-inch Display