A motorcycle-friendly navigator with stereo Bluetooth and XM satellite radio, weather and traffic
Garmin International Inc. announced the zumo 665 — a new fully touchscreen motorcycle navigator that includes an antenna for XM Satellite Radio, real-time XM NavWeather and real-time XM NavTraffic. To receive the XM Satellite information, an optional subscription is required.
"For entertainment or information, the zumo 665 makes every road trip more enjoyable and stress-free," said Dan Bartel, Garmin's vice president of worldwide sales. "From back roads to rallies, you can listen to the radio, check the weather and move ahead of traffic as you travel down the road."
The zumo 665 comes standard with the GXM 40 XM antenna — simply add an optional XM subscription and you can receive real-time XM Satellite Radio with 170 digital channels of commercial-free music, news, sports, talk and entertainment along with 20 dedicated channels of XM Instant Traffic and Weather when you travel in the United States. With the addition of XM NavWeather, you can access up-to-the-minute weather data and NEXRAD radar graphics from your map screen to stay ahead of the storm. Plus, when you add on XM NavTraffic, you can find out where the trouble spots are and route around them.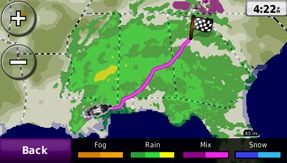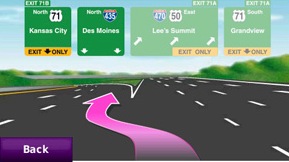 Whether you're riding during a bright day or a moonless night, the zumo 665 has motorcycle-friendly features any rider will appreciate. With a 4.3″ touchscreen color display, the zumo 665 puts all the information you need in an easy-to-read format as you travel down the road and features a glove-friendly intuitive interface that makes entering information as easy as shifting gears. This durable and waterproof (IPX 7 standards) device comes preloaded with detailed, street-level maps of the United States, Canada and Puerto Rico with over six million points of interest including gas stations, lodging, restaurants, attractions and more. The zumo 665 speaks street names and will deliver turn-by-turn, voice prompted directions, such as "turn right on Main Street," via the built-in speaker headphone jack or through a compatible Bluetooth helmet or headset.
This motorcycle-friendly navigator also comes equipped with advanced routing capabilities such as lane assist with junction view that guides riders to the correct lane for an approaching turn or exit, and realistically displays road signs and junctions on the route along with arrows that indicate the proper lane for navigation. In some major metropolitan areas, surrounding buildings are displayed in a 3D transparent view.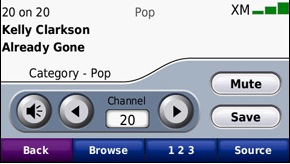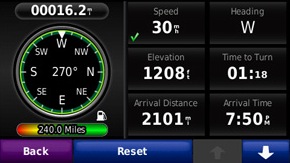 The zumo 665 also has enhanced Bluetooth Wireless Technology with A2DP support for streaming audio in high quality stereo sound, and makes it possible to receive and place phone calls as well as receive navigation cues wirelessly to Bluetooth enabled headsets or helmets. With Bluetooth, riders are free to safely talk on their phone without having to remove their gloves or helmet. For last-minute change of plans or a quick pit stop for food, users can also make calls from the zumo's huge points of interest database.
While riding, it's also easy to access trip information directly from the zumo's trip information page like speed, heading, altitude, and a customizable fuel gage that can be modified to the motorcycle's maximum fuel range. In addition, with the zumo's powerful trip planning tools, zumo owners can create and custom routes via computer and then transfer the save route directly to the zumo before they begin their journey.
The zumo 665 is expected to be available in the first quarter of 2010 for $999.99.