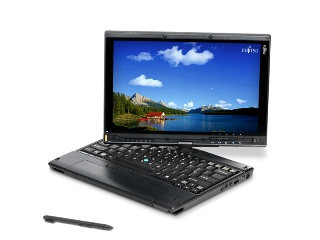 Versatile and Extraordinarily Light LifeBook Mini and Ultra-Portable Convertible Notebooks Deliver Mobility Without Compromise
Fujitsu Computer Systems Corporation announced the palm-sized LifeBook U810 mini and the ultra-portable LifeBook T2010 convertible notebooks delivering unmatched mobility and versatility with no compromises. The new notebooks are packed with the features and capabilities mobile professionals and on-the-go consumers demand; users will appreciate the sleek, highly functional design of these ultimate mobile devices.
Weighing a scant 1.56 pounds with a 5.6-inch WSVGA Crystal View LED display and a newly designed, ultra slim QWERTY keyboard, the LifeBook U810 notebook is the world's smallest tablet convertible*. Available next month, the mini-powerhouse works the way you like, regardless of the environment. As a standard notebook, it's easy to access mail, work on presentations, or just surf the web. Twist the screen and the LifeBook U810 notebook is now a handheld Tablet PC with a touch screen for finger or pen input. The multi-function capabilities of the LifeBook U810 notebook make it ideal for watching a movie, listening to music, viewing and editing documents, surfing the Internet, or video conferencing and digital picture taking using the notebook's integrated camera. And best of all, the LifeBook U810 notebook is a full function mini notebook capable of running standard notebook applications. Once back at the office or at home, simply dock the notebook into the docking station and use an external display and keyboard to deliver a true desktop experience.
The LifeBook U810 notebook is equipped with the energy efficient Ultra Low Power Intel A110 processor optimized specifically highly mobile devices With a standard 4-cell battery, it delivers up to 5.5 hours(1) of computing time. The mini convertible offers users a choice of operating systems to meet their needs, and is available with Windows Vista Home Premium, Windows Vista Business or Windows XP Tablet PC Edition 2005.
For mobile professionals who desire a lightweight convertible without sacrificing battery life or display size, the LifeBook T2010 notebook, weighing in at approximately 3.5 pounds, is one of the lightest in its class. It is the first convertible notebook that comes very close to the weight of a slate tablet while maintaining exceptional battery life. Available immediately, this stylish ultra-portable with a slim 1.3-inch chassis features a 12.1-inch WXGA indoor/outdoor display with a bi-directional swivel. Its LED-backlit screen provides an exceptionally bright display for an improved visual experience even in sunlight.
The pen-enabled convertible boasts extraordinary battery life of up to 11 hours(1) with the extended battery option, or 9 hours (1) with a standard battery. The LifeBook T2010 notebook, powered by the latest Intel Core™ 2 Duo Ultra Low Voltage U7600 Processor offers a choice of Windows Vista Business or Windows XP Tablet PC Edition 2005. A spill-resistant keyboard adds extra protection against accidents.
"The LifeBook U810 and LifeBook T2010 convertibles are the latest additions to the innovative line of Fujitsu convertibles ushering in the new generation of lightweight devices that offer exceptional mobility and extended computing time," said Paul Moore, senior director of mobile product marketing, Fujitsu Computer Systems. "The LifeBook U810 notebook hits the mark for on-the-go workforces and prosumers who appreciate the mobile aspects of a PDA, but need the power and compatibility of a notebook. And for customers who love our best-selling LifeBook T4220 convertible notebook with a modular bay, but would like a lighter 1-spindle version with longer battery life. The wait is over with the introduction of the LifeBook T2010 notebook."
Both the LifeBook U810 and LifeBook T2010 notebooks comply with the new Energy Star version 4.0 guidelines. The environmentally friendly notebooks are packed with a suite of advanced security features to safeguard information including Trusted Platform Module support and two-level BIO lock, along with a fingerprint sensor for encrypting sensitive files with a finger swipe. The LifeBook T2010 notebook also offers an embedded Smart Card slot. Internet connectivity is easy via built-in Wireless LAN, LAN and Bluetooth connections.
Price and Availability
The LifeBook U810 notebook, available in September 2007, is priced starting at $999(2). The LifeBook T2010 notebook, priced starting at $1,599(2) is immediately available through the Fujitsu direct sales force, website, channel partners and select retail outlets(3). Users can choose from a recommended configuration, or they can customize their system using the Fujitsu Configure To Order (CTO) program. See http://www.computers.us.fujitsu.com/store/index.shtml for further information.
Service and Support
The LifeBook U810 notebook and the LifeBook T2010 notebook are backed by a one- or three-year International Limited Warranty for U.S. and Canadian customers. The International Limited Warranty(4) includes technical support 24 hours a day, seven days a week(5), and unlimited online chat support. In addition, Fujitsu offers other warranty plans designed to meet the unique needs of mobile users. See http://us.fujitsu.com/computers for further information.
About Fujitsu Computer Systems Corporation
Headquartered in Sunnyvale, Calif., Fujitsu Computer Systems is a wholly owned subsidiary of Fujitsu Limited (TSE: 6702) committed to the design, development and delivery of advanced computer systems, application infrastructure software products, and managed services for the business enterprise. Through its TRIOLE strategy, the company offers a complete line of scalable and reliable servers, storage and middleware solutions, high-performance mobile and client computers, as well as professional services. Fujitsu Computer Systems has established itself as a strategic solutions provider to the world's leading organizations by offering technology innovation, customer choice, exceptional product quality and reliability, as well as outstanding customer service. See http://us.fujitsu.com/computers for further information.
About Fujitsu
Fujitsu is a leading provider of customer-focused IT and communications solutions for the global marketplace. Pace-setting device technologies, highly reliable computing and communications products, and a worldwide corps of systems and services experts uniquely position Fujitsu to deliver comprehensive solutions that open up infinite possibilities for its customers' success. Headquartered in Tokyo, Fujitsu Limited (TSE: 6702) reported consolidated revenues of 5.1 trillion yen (US$43.2 billion) for the fiscal year ended March 31, 2007. See http://www.fujitsu.com for further information.
Fujitsu, the Fujitsu logo, LifeBook and TRIOLE are trademarks or registered trademarks of Fujitsu Limited in the United States and other countries. Intel, the Intel logo and Intel Core are trademarks or registered trademarks of Intel Corporation or its subsidiaries in the United States and other countries. Microsoft, Windows, and Windows Vista are trademarks or registered trademarks of Microsoft Corporation in the United States and/or other countries. ENERGY STAR is a registered trademark of the United States Environmental Protection Agency in the United States. All other trademarks and product names are the property of their respective owners.
The statements provided herein are for informational purposes only and may be amended or altered by Fujitsu Computer Systems Corporation without notice or liability. Product description data represents Fujitsu design objectives and is provided for comparative purposes; actual results may vary based on a variety of factors. Specifications are subject to change without notice.
* As of May 16, 2007, according to Fujitsu investigations
(1) Battery life estimates reflect the results of BAPCo MobileMark2005 Productivity Workloads performed upon systems with battery life setting enabled on Windows XP operating systems. Actual battery life will vary based on screen brightness, applications used, features selected, power management settings, battery conditioning, and other customer preferences. DVD/CD-RW, DVD Writer, LAN, wireless LAN or hard drive usage may also have a significant impact on battery life.
(2) Pricing may change without notice.
(3) Certain retailers will only offer select models.
(4) Subject to International Limited Warranty terms and conditions.
(5) Service and warranty repairs turnaround time may vary by country and product. Support 24 hours a day, seven days a week applies to the U.S. and Canada only. Subject to International Limited Warranty terms and conditions.