FujiFilm announced their lowest end, yet feature-packed compact digital cameras offering simple operation, a FUJINON 5x zoom lens and 720p HD movie capture capabilities
The FinePix JX580 (pictured above) has a powerful 16-MegaPixel CCD sensor and a FUJINON 5x wide angle (26mm-130mm) optical zoom lens to ensure that the highest image quality is captured every time. The JX580 easily gives everyone the ability to take terrific pictures, even in low light, by offering a large 3.0″ LCD screen with improved viewing in bright light, metal body and a powerful Li-ion rechargeable battery.
The AX550 also features the performance-driven 16-MegaPixel CCD sensor and a FUJINON 5x wide angle (26mm-130mm) optical zoom lens, while the JX500 has an impressive 14-MegaPixel CCD sensor, a FUJINON 5x wide angle (26mm-130mm) optical zoom lens and a 2.7″ LCD screen with two choices for battery power: Li-ion for the JX500 and AA batteries for the AX550.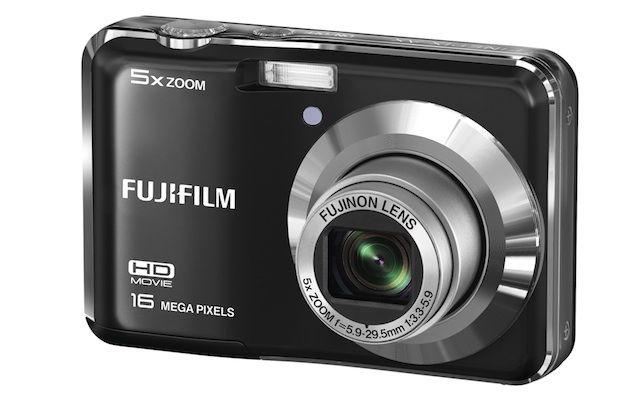 Photo: AX550
HD Movie Capabilities
The JX580, JX500 and AX550 each offer 720p HD movie capture that enables users to take stunning, detailed pictures and movies that can be enjoyed in ultra-sharp high definition on any HD ready television or PC, using the optional HD Player (HDP-L1) accessory kit with wireless remote control (HDMI cable not included). In the FinePix JX580 and JX500, a new dedicated movie recording button on the rear of the camera makes it even quicker to start capturing movie, and with their in-camera editing functionality, users can enjoy trimming, cropping and re-cutting their short movies right in the palm of their hand.
Smile / Blink Detection
The FinePix JX and AX-Series cameras feature Smile Detection that works with Fujifilm's impressive Face Detection technology to detect smiles on faces — it will not take a picture until it detects a smile, so you're guaranteed great looking shots. Another feature is Blink Detection which warns you if you have captured an image with people blinking, so you can re-shoot if necessary.
Facebook and You Tube Easy Web Upload
The new FinePix JX and AX-Series cameras offer an innovative function called "Easy Web Upload" that allows you to sort through your photos on-camera and decide which ones to upload to Facebook or You Tube. Simply connect to a PC and launch the MyFinePix Studio software (for Windows) and they will immediately upload.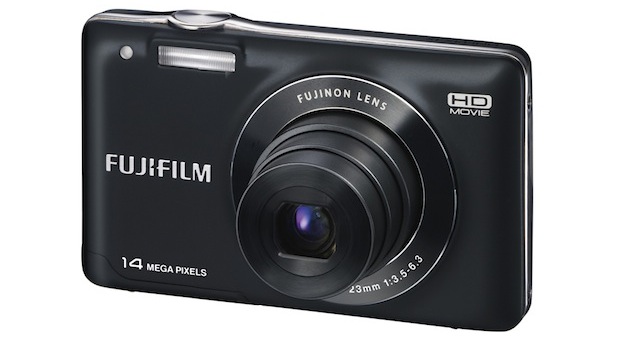 Photo: JX500
Other features include:
i-Flash Intelligent Flash: Offers a flash control system which efficiently controls the level of flash for a given exposure to produce beautifully balanced flash illumination across the foreground and background. Gone are the ugly washout shots where the subject is blasted with light and the background dark and unexposed.
Tracking Auto Focus (AF): Tracks fast moving subjects so they don't escape from the frame in a blur. Subjects will be tracked automatically for as long as it is kept in the frame and the shutter is half-pressed; when users fully press the shutter button your subject will be in the centre of the photo in perfect focus.
Scene Recognition Auto (SR AUTO): This mode intelligently identifies the scene type and necessary shooting conditions to optimize picture perfect potential.
Motion Panorama Mode: Automatically stitches up to three shots to create a panoramic picture
Face Detection and Automatic Red-eye Removal: To provide perfectly exposed and focused portrait shots, the cameras are fitted with Fujifilm's latest Face Detection technology which is able to track up to 10 faces simultaneously. The system instantly corrects red-eye and then saves both the original and the corrected image file automatically.
Digital Image Stabilization: Reduces image blur automatically, resulting in excellent picture quality.
Price and Availability
FujiFilm FinePix JX580 → $119.95 (February 2012 in black, red and blue)
FujiFilm FinePix JX500 → $99.95 (February 2012 in black, red and blue)
FujiFilm FinePix AX550 → $89.95 (March 2012 in black only)