Fujifilm announced the Wi-Fi enabled, compact long-zoom, 16-megapixel FinePix F800EXR digital camera that features a Wireless Image Transfer function that allows users to upload high resolution images to their smartphone or tablet. The new F-Series camera is essentially the same as the F770EXR, but with Wi-Fi instead of a GPS.
The FinePix F800EXR features a powerful 1/2″ 16 MegaPixel EXR-CMOS sensor that delivers superior image quality and performance – especially in low light situations. The F800EXR also uses the bright and fast FUJINON 20x Wide-Angle long-zoom lens (25-500mm) that produces exceptional images, along with an Intelligent Digital Zoom feature that effectively doubles zoom capability and an ultra-clear 3.0″ high contrast 460K resolution LCD.
Fujifilm's innovative Wireless Image Transfer function allows users to connect their smartphone or tablet to the F800EXR and upload high-quality images to social networking sites like Facebook and Twitter in seconds.
Connecting your FinePix F800EXR to any Android smartphone or tablet, or the iPhone or iPad is easy – all users have to do is download the free application FUJIFILM Photo Receiver to their device, then follow the simple instructions to get connected. To start uploading (up to 30 images per transfer), users press the F800EXR's on-screen connect button to join to a device, then the images will be transferred to the Android smartphone / tablet or iPhone / iPad for easy sharing.
Then by downloading the free FUJIFILM Camera Application, the FinePix F800EXR is also able to record the user's current location data provided by the smartphone or tablet's location data (latitude and longitude), and display it on the F800EXR's LCD. Users can also send their images to their smartphone or tablet to display on a map where images were shot. With a database of approximately 1 million landmarks worldwide, users can enjoy various functions, such as Landmark Navigator which displays the distance to a nearby landmark in the direction the camera is faced towards, and Photo Navigation which displays the distance from the photographer's present location to the place where a tagged photo was taken.
Fantastic Built-in Photographic Filters: With its built-in photographic filters, users can now get even more creative with their photography. The F800EXR has six new filters: Pop Color, Toy Camera, Miniature, High Key, Partial color and Dynamic Tone.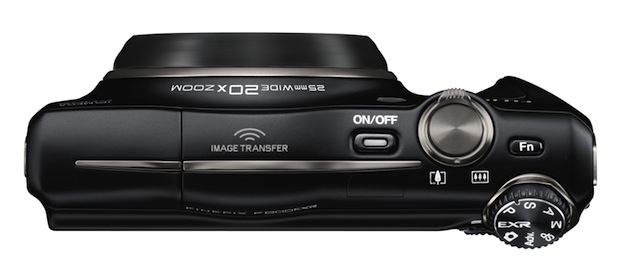 EXR Auto mode with Motion Detection: Fujifilm's advanced EXR-CMOS sensor enables the F800EXR to correct motion blur on three fronts with mechanical image stabilization, high ISO sensitivity and the new Motion Detection capability working together. In low light conditions with EXR Auto mode selected, the F-Series automatically identify if the subject is moving. If it is, the camera deploys Motion Detection and a higher ISO to ensure the subject is captured with reduced blurring. If no subject movement is identified, the EXR-CMOS sensor automatically keeps the ISO lower and uses image stabilization to reduce noise.
Users who prefer to take more control themselves can also choose from:
EXR HR (High Resolution) priority mode — the sensor utilizes all of its 16 megapixels for the highest quality results.
EXR DR (Dynamic Range) priority mode — takes two pictures and combines them to provide a wide dynamic range of up to 1600%.
EXR SN (Signal to Noise) priority mode — pixels are doubled up to increase sensitivity and give better results in low light conditions.
Sharp, Clear 20x Lens: The FinePix F800EXR camera uses the FUJINON 20x Super Wide-Angle optical zoom lens that produces crisp high resolution results throughout the focal range, from 25mm wide-angle to 500mm telephoto, along with a Super Macro Mode that allow sharp focusing down to 5cm delivering the most brilliant detail possible.
Impressive Speed: With auto focus speeds as fast as 0.16seconds, the F800EXR delivers outstanding high speed shooting capabilities, up to 8 frames per second (fps) at full resolution (11fps max speed at medium resolution), and full HD movie capture at 1080p (30fps) in stereo.
Additional features:
Intelligent Digital Zoom: With 20x optical zoom, Intelligent Digital Zoom delivers 40x total zoom, and 15x optical zoom extends to 30x total zoom.
HD Movie Capture: Full 1080p HD quality, a mini HDMI port and stereo sound with a high speed movie option for freezing fast moving action at up to an incredible 320fps.
Intelligent Image Stabilization: Intelligent Image Stabilization system provides further improved image quality with reduced blurring and noise in still pictures and even when shooting movies at the full optical zoom or in very low-light.
Amazing panoramic shots: Enhanced Motion Panorama mode that allows users to capture beautiful, seamless 360° panoramic images both horizontally and vertically that show fine detail, low noise and high resolution at 180°, 240° or full 360° panoramic ranges.
Tracking Auto Focus (AF): Tracks fast moving subjects so they don't escape from the frame in a blur. Subjects will be tracked automatically for as long as it is kept in the frame and the shutter is half-pressed; when users fully press the shutter button your subject will be in the centre of the photo in perfect focus.
Shoot in RAW: Images can also be captured in a RAW file for advanced creative work after shooting.
Super Intelligent Flash: A flash control system which efficiently controls the level of flash for a given exposure to produce beautifully balanced flash illumination across the foreground and background.
Price and Availability
The Fujifilm FinePix F800EXR will be available in August 2012 for $349.95 in black. See more digital cameras.
fujifilm finepix f800exr Reviews
From Critics Around the Web