Etronicsland Online announced today the arrival of their newest electronic gadget. It's the V-Theater series of MP4 Player Video Eyeglasses – lightweight mobile video eyeglasses that weigh about of 2.1 ounces.
Essentially, the V-Theater is a personal video entertainment center that you wear as if they were glasses. The five models of V-Theater video glasses being sold are:
V-Theater ELTV0050
V-Theater ELTV0051
V-Theater ELTV0052
V-Theater ELTV0053
V-Theater ELTV0054
The combination of video microdisplays, adapters, surround-sound stereo and battery pack, make it ideal for consumers to privately view theater-quality video, photos and websites from small mobile devices such as MP4 players, cell phones, Video iPods, portable DVD players, and personal multimedia players.
These V-Theater video eyeglasses are the perfect high-resolution video monitor for any portable application or where space is limited. Plus, the patented optical design delivers a giant screen image equivalent to a 70 inch picture viewed from a distance of 13 feet. No other monitor can give you that kind of high-resolution image in a portable platform.
"These amazing new V-Theater video eyeglasses are a new generation of gadgets that will be very hot gift ideas this coming holiday season", said Kabiru Kyari, Chairman & CEO of Etronicsland Online
Etronicsland is making these new V-Theater series of eyeglasses available to every gadget lover worldwide.
Here are the specifications of one of the V-Theater eyeglasses that Etronicsland Online offers:
Application:
1) watch movies connected with Ipod video, Mp4 Player, PMP, protable DVD & car DVD player
2)Play games connected with PS2, PS3, Xbox,Wii, video game console
3)Watch video connected with portable TV tuner, 2.4G wireless receiver, Mobile phone
Display Size: 50 inch virtual TFT-LCD screen(at 2m distance)
Resolution: 320X240(QVGA)
Color Depth:24-bit input
Viewing angle: 26
Image Input: Composite AV
Video input format:NTSC/Pal/SECAM auto selection
Audio:Double-channel stereo
Power supply: around 8h
Power adapter:5V DC/500mah
Power consumption:<450mwa
The specs above are for the V-Theater ELTV0051 MP4 Player Video Eyeglasses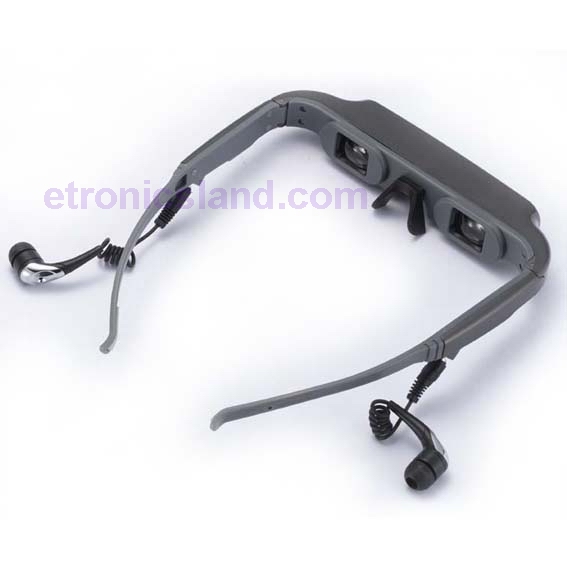 Kabiru Kyari further says that these new MP4 player video eyeglasses are getting rave reviews in a lot of tech forums and blogs. Etronicsland enables anyone to buy with ease from their online store. Orders are quickly processed and shipped.
Visit Etronicsland's website for more product details and prices on several of these MP4 player video eyeglasses. These video glasses come in a variety of styles.
Contact:
Adam Plateau
Etronicsland.com
Media Relations Dept.
tel:240-560-3476
http://www.etronicsland.com