Esoteric Demonstrates Wired and Wireless Transmission of PCM Audio to D-03 DAC
ESOTERIC, a division of TEAC America, Inc., manufacturer of high end consumer electronics, demonstrated wired and wireless transmission for uncompressed linear PCM audio data into a digital to analog audio converter. The demonstrations took place at CEDIA 2008. To be offered in the future as an option for the D-03, or as an optional and incremental upgrade for existing D-03 owners, linear PCM audio can now be routed through ESOTERIC'S award winning D-03 – D/A converter. Production models of the optional kit will transmit data with sampling rates of 24-bit 96 kHz for wired USB connections and up to 16-bit 48 kHz for wireless transmission. The D-03 then up-converts the audio signal to 176.4 kHz.
This new Esoteric add on kit includes one USB input board to enable wired and wireless connections. The kit also includes a wireless USB transmitter for connection to a PC. This allows compressed or uncompressed high resolution audio playback thorough the D-03's dual mono, D/A converter. Converter outputs can then be connected to any audio system with a line level input.
An Esoteric spokesperson stated… "Now high end audiophiles with PC based audio libraries can expand listening options to include playback from a hard disc drive, or from networked attached storage, routed through their PC or MAC, in both wired or wireless configurations. By allowing compressed (MP3, AAC, etc), or uncompressed (FLAC, WAVE, etc), high resolution audio playback through our D/A converter, users can enjoy a tremendous quality improvement over typical PC and/or server based D/A conversion."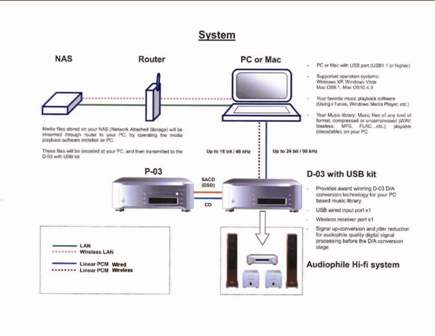 The D-03 dual mono D/A converter (MSRP $14,000), is available now through Esoteric's dealer network of audio video specialists. The Esoteric USB kit will be sold as an option with the D-03 and will also become available as an incremental upgrade for current owners. Availability for the kit is planned for early 2009. Cost of the 2 part kit is tentatively priced at $1200.00 including installation. Availability is planned for late 2008.
About TEAC ESOTERIC Company
Esoteric has been delivering the finest audio video components to the most discerning users for over 20 years. All components used in building the VRDS-NEO (Vibration Free Rigid Disc Clamping System), VOSP (Vertically Aligned Optical Stability Platform), D/A converters, master clocks, SACD/CD players, universal disc players and other electronics; are hand-selected, matched, and graded, to combine into a single, synergistic component. In the USA, Esoteric products are distributed by TEAC America. The TEAC Corporation of Japan is Esoteric's parent company and was established in 1953.
About TEAC America, Inc.
TEAC America, Inc., the largest subsidiary of the Japanese electronics maker TEAC, distributes high grade audio video electronics, consumer electronics, computer data recording and storage devices, computer peripherals and professional recording equipment. Products are marketed by TEAC America under the brand names ESOTERIC, TEAC and TASCAM. TEAC America, Inc. was established in 1967. To learn more about ESOTERIC technology, please visit: www.teac.com/esoteric/
Reviews Around the Web:

esoteric d-03