Seiko Epson Corporation ("Epson") announced that it has developed an optical compensator* that uses inorganic materials. This product is an optical component for further enhancing the performance of 3LCD-type front projectors that use TN-type high-temperature polysilicon (HTPS) LCD panels. Epson has started volume production of this optical compensator, which can be used with 0.8-inch HTPS that uses D7 process technology.
The development of this optical compensator was aimed at enabling 3LCD projector manufacturers, who are our customers, to realize more competitive optical systems by providing them with solutions that include not only HTPS but also other peripheral optical components for projectors.
Results of tests carried out by Epson showed this new optical compensator to be capable of increasing the contrast ratio by up to 34% and light transmittance by an average of 3% compared to conventional compensators that use organic materials, thus enabling 3LCD projectors to achieve high contrast and high brightness.
Conventional 3LCD projectors include optical compensators that use organic materials and are formed to conform to the width of large-size direct-view LCD panels. The new optical compensator, for which volume production has started, uses inorganic materials and is optimized for use with HTPS panels. In addition, the new optical compensator enables a greater transmission rate by limiting diffusion of light and achieves a contrast ratio that is higher than had been possible up to now.
These features will enable users to enjoy images of greater brightness and higher contrast on 3LCD projectors using the new optical compensator in combination with HTPS panels of the same size.
Features of the new product
When appropriately positioned, up to 34% higher contrast ratio than that provided by organic optical compensator
Average 3% improvement in light transmittance over what is provided by organic optical compensator
Specifications of the new product
The new product is made up of an optical compensator film formed on one side of a transparent glass substrate, with anti-reflection films formed on either side thereof.
External dimensions
Length: 25±0.1mm
Width: 20±0.1mm
Thickness: 0.7±0.05mm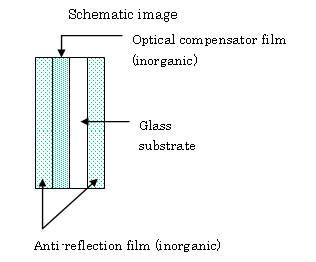 Specifications of HTPS panel used with new optical compensator
| | |
| --- | --- |
| Product name | L3P8X-8 Series |
| LCD type | TN organic alignment layer |
| Process technology | D7 |
| Effective pixels | 1024 x 768 (XGA) |
| Panel size (diagonal) | 0.8 inch (2.0 cm) |
| Pixel pitch | 15.5 µm |
| Aperture ratio | 79% |
Note
The optical compensator described above is designed for use with 0.8 inch HTPS. However, by modifying its size, it can be used with HTPS of other sizes.
Related information
Further details of the features of HTPS can be found at www.epson.jp/device/e/.
For a better understanding of the 3LCD system, please visit www.3lcd.com/.
Glossary
*Optical compensators allow a wider viewing-angle for LCD panels, and improve contrast ratio when used in projectors.
About Epson
Epson is a global leader in imaging products including printers, 3LCD projectors and small- and medium-sized LCDs. With an innovative and creative culture, Epson is dedicated to exceeding the vision and expectations of customers worldwide with products known for their superior quality, functionality, compactness and energy efficiency.
Epson is a network of 87,626 employees in 117 companies around the world, and is proud of its ongoing contributions to the global environment and to the communities in which it is located. Led by the Japan-based Seiko Epson Corp., the Group had consolidated sales of 1416 billion yen in fiscal 2006.