The Engage Unity Home Theater System is an all-in-one speaker system embedded into a pedestal TV stand. It features all the electronics needed to deliver 5.1 channel Dolby Digital Surround Sound including an integrated amplifier, dual 10-inch subwoofers, integrated center, left and right channel speakers and a 5.25-inch down-firing midrange, along with an integrated Blu-ray/DVD player. Advanced acoustic modeling and a proprietary speaker configuration create a dynamic sound field that engages consumers without overpowering them.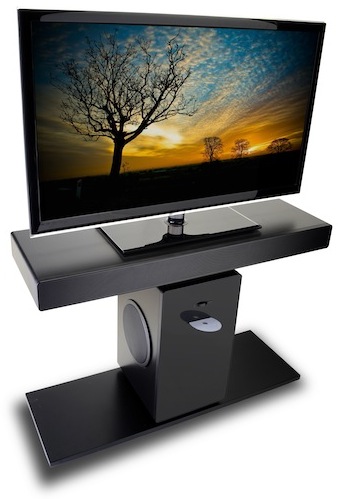 Unity is designed to support any brand of flat-screen TV up to 60 inches and features a single-wire connection using HDMI 1.4a. It also has connections for iPhones and iPods and Ethernet. Future versions are expected to feature interoperability with a host of IP devices, wireless connectivity and access via Over The Top (OTT) services.
All of the features are packed into an elegant, space-saving pedestal style platform design. The sophisticated, industrial design was created by RKS, an award-winning global design consultancy based in Thousand Oaks, Calif.
Price and Availability
The Unity Home Theater System will be available mid-2012 for $999. It will be marketed under the Engage brand of In2Technologies, headquartered in San Jose, Calif.