Enabling Highest-Quality Audio for Today's Ultra-thin TVs and Consumer Electronics
Emo Labs, Inc., developers of invisible speaker solutions for display products, today unveiled the industry's first fundamentally new loudspeaker technology in decades at DEMOfall 09. Using ultra-thin, transparent material, Emo Labs has developed an invisible speaker system that delivers the highest-quality stereo sound from today's streamlined display products, including TVs, monitors and laptops. By turning the display into a stereo speaker, the sound and dialogue come directly from the screen, just as they do in a movie theater. The combination of this "unified" presentation with superb sound quality and space-saving design enables new consumer electronics products with embedded EMO™ speaker solutions to deliver a more natural and realistic multimedia experience.
Advances in LCD, LED and Plasma display technology have enabled manufacturers to build TVs and other consumer electronics that deliver superior picture quality from a thin, sleek enclosure. Unfortunately, the demand for these smaller form factors has forced manufacturers to squeeze tiny versions of traditional speakers into a strip along the bottom or on the back so they don't take up significant space. As a result, the acoustic quality has declined substantially in newer TVs and other display products. In fact, a recent study by leading industry research firm DisplaySearch confirms that the majority of new TV purchasers are not satisfied with the sound quality.
"There is no question that sound is critical to the consumer digital media experience, and Emo Labs has forever changed how we'll experience sound in consumer electronics devices," said Chris Shipley, Executive Producer of the DEMO Conferences. "Emo Labs invisible speaker systems provide a very compelling value proposition for today's smaller and more streamlined consumer electronics: finally, new products that sound as good as they look."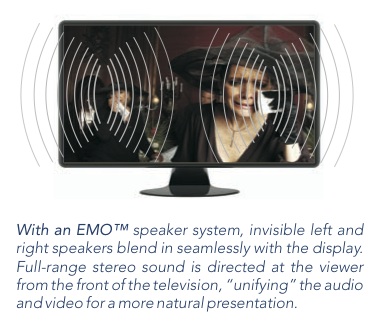 While video display technologies have improved dramatically over the past decade, the basic sound-producing mechanism used in most of today's mass-produced speaker drivers is fundamentally the same as it was in the 1920's. In contrast, Emo Lab's patented Edge Motion™ audio systems use a completely different mechanical principle to generate high-quality, stereo sound. Instead of pushing from behind, Edge Motion™ speakers use force on the sides of a very thin, transparent material to generate sound waves. The result is a highly innovative, invisible speaker system that produces superior, stereo sound directly from the front of a video display panel, without adding to the size of the finished product.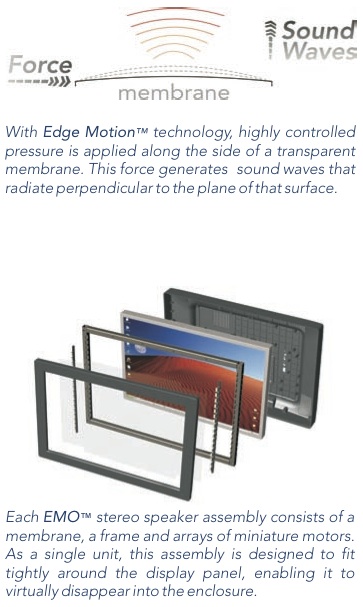 "Every day, people bring home the newest, most advanced consumer electronics — only to be disappointed by the poor sound quality these devices deliver," said Jason Carlson, CEO of Emo Labs. "With EMO™ branded speaker systems, manufacturers can now deliver a richer and more natural user experience without sacrificing size and styling."
Emo Labs develops embedded audio solutions for leading electronics manufacturers that disappear into the display enclosure. These state-of-the-art Edge Motion™ speaker systems offer significant performance and form factor benefits compared to conventional speakers, enabling manufacturers to create better, more satisfying consumer electronic products.
About Emo Labs, Inc.
Headquartered in Waltham, MA, Emo Labs develops innovative audio technologies that will change the way people look at speakers. The company's patented Edge Motion™ speaker systems enable leading electronics manufacturers to create products that offer a vastly improved listening experience in home entertainment, desktop and portable use.