For 2012, Denon Electronics announced four budget price home theater receivers priced from $249.99 to $579.99. The highest priced model, AVR-1913 (photo above), offers 7.1-channels of surround sound, while the others provide 5.1-channels.
The AVR-1913, AVR-1713 and AVR-1613 feature Apple's AirPlay, allowing users to customize soundtracks for their home by unleashing their iTunes music libraries through a Mac, PC or an iPhone, iPad or iPod touch. All three receivers also feature iPhone, iPad and iPod touch direct connectivity via USB for quick and simple integration into your home audio system.


Denon AVR-1713
Each A/V receiver offers simple and intuitive ways to incorporate more personal audio/video content. In addition to their easily accessible front-panel HDMI input for quick and easy connections of camcorders and cameras, the AVR-1913, AVR-1713 and AVR-1613 each feature a front-panel USB input, allowing users to enjoy digital music from connected devices. All models except the AVR-1513 support AirPlay and are DLNA 1.5 certified.


Denon AVR-1613
Each new receiver features an efficient and straightforward short signal path circuit design that ensures optimal audio and video playback by minimizing any signal degradation due to interference. The receivers above the AVR-1513 feature a full package of Audyssey audio technologies for optimal sound quality. Audyssey Dynamic Volume offers real-time volume adjustment; while Audyssey DynamicEQ improves a system's surround sound effects at low volume levels. Audyssey MultEQ (in the AVR-1613 and AVR-1913 (MultEQXT in the AVR-1713)) automatically sets speakers (including the subwoofer) to suit the room's listening environment and the speaker's characteristics.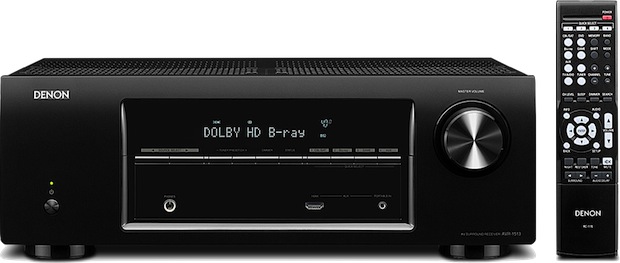 Denon AVR-1513
Notably, for total simplicity of first-time setup, three of Denon's new receivers, (AVR-1913, AVR-1713, AVR-1613) feature the company's acclaimed onscreen Setup Assistant, a straightforward instructional feature that includes language selection, a speaker connection guide, speaker calibration, source setup and simple network configuration.
See more: Compare specs side-by-side at Denon.com, Denon A/V Receivers, Receiver Reviews
Specification, Features and Pricing
Rear Photos:


Denon AVR-1513


Denon AVR-1613

Denon AVR-1713


Denon AVR-1913