Privacy Please: New Electronic Security Screen Keeps Prying Eyes Away
Take the Show on the Road with M109S 'Pocket-Sized' Projector
Latitude Laptops Personalized with Vibrant Colors
Dell today is delivering a one of a kind electronic privacy screen on the Latitude E6400 and introduced the M109S on-the-go pocket-sized projector. The company is also offering color across its Latitude mainstream and ultra-portable laptops. More information can be found at www.dell.com/latitude.
Dell also announced its most powerful mobile workstations ever, the Dell Precision M6400 and M6400 Covet, which are ISV-certified and available in anodized aluminum and vibrant orange (M6400 Covet only). The Dell Precision M6400 starts at $2,599 and is available today. The M6400 Covet will be available by the end of the year. The systems feature twice the memory and triple the storage of similar systems currently available.
"Millions of conversations everyday give us insight into the needs of digital nomads who want to work anywhere on the planet at any time," said Margaret Franco, director, Dell Product Group from a media event in Monaco. "We are continuing the momentum from the recent launch of our breakthrough line of Latitude laptops to give customers a new level of security, collaboration and quality."
One-Touch Privacy
The Latitude E6400 is available with an optional electronic privacy screen. This software-driven display creates a pixel-based pattern on the screen, reducing the side viewing angles of people seated next to the user. It has minimal impact on display brightness and is activated with a single touch key combination or through Dell's ControlPoint software. Users don't have to keep up with separate plastic screen inserts and can have a better viewing experience while keeping data on their screen more private. The option is $139 and available globally today.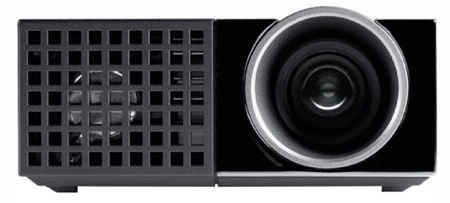 Pocket-Sized Projector
Designed for the collaborative road warrior, the Dell M109S On-the-Go Pocket-Sized projector weighs in at 0.80 pounds and fits snuggly in the palm of a hand. The 55 ANSI Lumens (max.) projector has a resolution of 858 x 600 (SVGA), projection distance of up to 94.5 inches and environmentally responsible, mercury-free LED light source that lasts up to four years.1 In addition, the M109S uses the power adapter from a Latitude or Vostro laptop, reducing the number of power adapters needed and overall travel weight. The projector starts at $499 and is available in the U.S. today. It will be offered globally in the coming months.
Other additions to Dell's laptop lineup include:
Color available on Latitude E4300, E6400 and E6500, including Mica-Brushed Metal (standard), Regatta Blue and Regal Red (E4200 available with color in the coming weeks including Quartz Pink).
Premium Panel Guarantee with zero tolerance policy for pixels stuck in the "on" position is available on Latitude laptops and Dell Precision mobile workstations, as well as other select laptops from Dell.
Continued solid state drive leadership with the addition of 64GB and 128GB drives.2
Enhanced security with 160GB 7,200 RPM full disk encryption drive that leverages onboard hardware to secure data without sacrificing system performance.2
Dell Precision mobile workstations, Latitude laptops and the M109S projector are available through all Dell sales channels, including the company's PartnerDirect program, based on global availability. Dell, Latitude and Dell Precision are registered trademarks of Dell, Inc. Dell disclaims any proprietary interest in the marks and names of others.
Offers subject to change, not combinable with all other offers. Taxes, shipping, handling and other fees apply.
1 LED module light source life estimated. Actual results will vary.
2 GB equals 1 billion bytes and TB equals 1 trillion bytes; actual capacity varies with preloaded material and operating environment and will be less.
Reviews Around the Web:

dell latitude e6400