New Personalization Options Attuned to Youth Culture and Visual Impact
Available Today Starting at $699
Designs by Mike Ming
Unorthodox, adventurous contemporary art meets on-the-go technology with the inaugural Special Art Edition Inspiron 1525 laptop, featuring two exclusive artworks by Mike Ming.
Choose from "Bunch O Surfers" or "Sea Sky," two unique designs that reflect Mike Ming's quest to create art that relates to broad audiences, yet speaks directly to everyone.
The laptops are available for order today, starting at $699, at http://www.dell.com/art.
A new Dell manufacturing technique brings alive every color and brushstroke on the laptop's cover, creating a fluid, graffiti-inspired tattoo effect that lets style pioneers add another level of individuality to everyday life.
The Inspiron 1525 is up to 25 percent smaller, thinner and almost a half a pound lighter than its predecessor. Consumers on the go will appreciate all of the optional wireless features that help them stay connected, whether it's at the desk, in a room, around the house or just about anywhere in a wireless network.(1)
Brooklyn-based artist Mike Ming (born Michael Miyahira) brings fascination with popular culture and life experiences to the canvas. "I wanted to create a sense of energy, playfulness, sophistication and psychedelic momentum when I started this," said Ming. "This new technique from Dell brings my inspiration–water and the energy it produces–to life and gives computer aficionados their own display of style."
"Our customers have asked that we continue to look at other areas of life, apart from technology, to help bring a sense of uniqueness to their computers," said Ed Boyd, vice president of Consumer Experience Design at Dell. "Mike Ming and the other artists in the series represent the shift in the level of customer design input, a trend we're excited to see continue."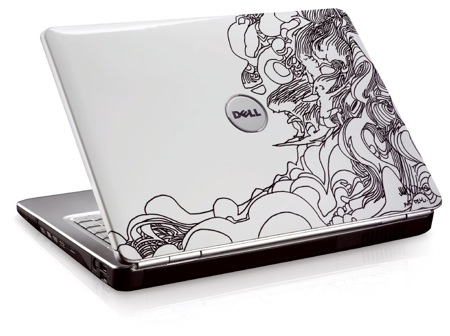 Links to:
http://www.mikeming.com
http://www.dell.com/art
About Dell
Dell Inc. (NASDAQ: DELL) listens to customers and delivers innovative technology and services they trust and value. Uniquely enabled by its direct business model, Dell is a leading global systems and services company and No. 34 on the Fortune 500. For more information, visit http://www.dell.com.
(1) Where wireless access is available. Additional access charges apply in some locations.
Dell Inspiron 1525 Reviews
From Critics Around the Web