Dell Desktop Computer Offers Advanced Multimedia Performance, New Designs for Digital Homes, Small Offices
Dell today introduced the Dimension™ 9100, a redesigned premium desktop computer that delivers high-end performance, multimedia technologies and proactive support to help customers more easily manage digital content and information.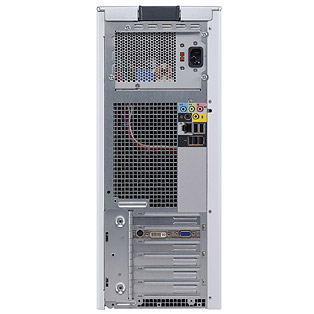 Dell also announced that it is the first major vendor to ship 500-GB1 Serial ATA 2 hard drives on the Dimension XPS Gen 5 desktop, which is designed for gamers and multimedia enthusiasts. The new hard drives can store hundreds of thousands of digital music files and photos, or hundreds of hours of video.2
Dimension 9100 Incorporates New Color Scheme, BTX Designs
The Dimension 9100 is the first of Dell's next-generation desktops offered in alpine white and arctic silver colors to complement the company's broad array of products such as Inspiron™ notebook computers and Dell DJ™ digital music players. Dell also combines its QuietCase™ technology and industry standard Balanced Technology Extended (BTX) design specifications that can deliver a quieter and cooler system than the previous model, while helping to improve reliability over the life of the product. Dell plans to incorporate the innovative design in future consumer desktops.
The Dimension 9100's Microsoft Windows XP Media Center Edition 2005 support, expandability, high performance and affordable price make it the ideal multimedia hub for small businesses or managing today's digital home networks. Its Intel dual-core technologies can save customers' time by running multiple productivity and multimedia applications simultaneously without experiencing performance degradation. The 9100's front panel is designed for easy access to USB 2.0 ports, an optional IEEE 1394 port and optional 9-in-1 media card reader to help customers quickly transfer digital photos, music and video from devices such as digital cameras, camcorders or handhelds.
Additional specifications include:
Intel 945P Express chipset with integrated Intel XD antivirus protection
Pentium 4 6xx single-core and Pentium D 8xx dual-core processors
Up to 4GB3 DDR2 memory
Six expansion slots: (1) PCIe x16, (1) PCIe x4, (1) PCIe x1 and (3) PCI
Integrated 7.1 audio support and 10/100 network controller
Tool-less chassis for increased reliability and serviceability
Microsoft Windows XP Home, Professional or Media Center Edition 2005
Dimension XPS Delivers Extreme Multimedia
The fifth-generation Dimension XPS, launched in April, continues to be an industry leader in delivering the latest technologies to customers. It can support up to three SATA 2 drives to deliver faster access to information, photos, music, videos and games. Additional options also include Intel Pentium D 8xx and Pentium 4 6xx processors and an integrated media card reader.
Dell Support 3.0
The Dimension systems ship with Dell's new automated update, upgrade and remote notification application, Dell™ Support 3.0. This complimentary, Dell-exclusive service enables real-time health scans of customers' PCs, peripherals and network devices; proactive alerts; automated "fixes;" software updates; and relevant self-support information all designed to help keep Dell systems in optimal working order. With Support 3.0, Dell can identify known errors, such as an incompatible device driver, and either automatically fix them for customers or offer a solution-even before they realize there is a problem.
The Dimension 9100 starts at $1,299 and the Dimension XPS starts at $2,099. Both systems are available in the Americas.
About Dell
Dell Inc. (NASDAQ: DELL) is a trusted and diversified information-technology supplier and partner, and sells a comprehensive portfolio of products and services directly to customers worldwide. Dell, recognized by Fortune magazine as America's most admired company and No. 3 globally, designs, builds and delivers innovative, tailored systems that provide customers with exceptional value. Company revenue for the past four quarters was $51.1 billion. For more information about Dell and its products and services, visit www.dell.com.
1 For hard drives, GB means 1 billion bytes; actual capacity varies with preloaded material and operating environment and will be less.
2 One 500GB hard drive can store up to 500 hours of compressed digital video (MPEG), 125,000 4 minute MP3 songs or 500,000 JPEG digital pictures. Calculations based on: 1GB per hour for compressed MPEG video, 4MB per 4 minute MP3 song, and 1MB per 2.4 megapixel image for JPEG pictures.
3 The total amount of usable memory available will be less, depending on the actual system configuration.
Dell is a trademark of Dell Inc.
Dell disclaims any proprietary interest in the marks and names of others.