Fastest Drobo Ever, Brings BeyondRAID with Multi-host Support to SMBs
Data Robotics, Inc. announced DroboElite, the first iSCSI SAN storage that manages itself. DroboElite is a powerful and flexible business class data storage solution that brings Data Robotics' award-winning BeyondRAID technology to a broader range of small and medium businesses (SMBs). The fastest Drobo to date, DroboElite features a new hardware architecture that includes an enhanced processing engine and dual high-speed iSCSI interfaces for 150 percent of the performance of previous Drobo models. True multi-host support with LUN affinity allows small and medium businesses with limited IT resources to simplify management and reduce costs by consolidating storage across multiple servers.
"We've been using Data Robotics storage for several years because it is so simple to use and keeps our data safe. The new DroboElite solution takes Data Robotics' technology to the next level. It enables us to pool storage capacity across several servers, and the Smart Volume technology makes it easy to efficiently provision, reclaim, and re-provision storage across our business environment," said Tarun Chachra, CTO at KSL Media.
DroboElite delivers automated capacity expansion and one-click single- or dual-drive redundancy for optimal data protection for Windows, Mac and Linux machines. The new system extends the number of Smart Volumes — Data Robotics' unique thin provisioning that pulls storage from a common pool of drives — so that users can now create up to 255 virtual storage volumes, making DroboElite an ideal solution for companies that require storage solutions that can scale with their infrastructure.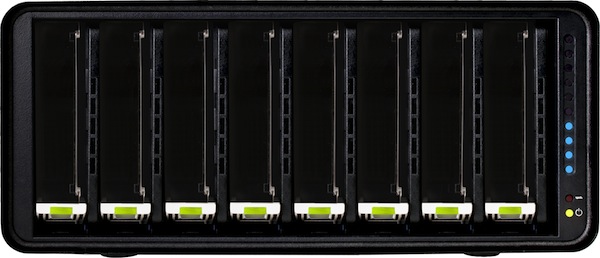 "As SMBs mature they typically deploy multiple servers in both virtualized and non-virtualized configurations, creating a need for storage that is easy to manage but has the flexibility to continually grow as the server mix becomes increasingly complex," said Benjamin S. Woo, vice president, enterprise storage systems, at industry analyst firm, IDC. "A unique thin provisioning approach like Data Robotics' Smart Volume technology gives companies optimal use of their existing storage and allows IT managers to more effectively manage their entire IT network without wasting time and money on storage management."
DroboElite Features and Benefits
Multi-host Support — Companies with multiple servers can easily add or consolidate storage by connecting the DroboElite into their existing TCP/IP network and utilizing the industry-standard iSCSI protocol.
Fastest Throughput of any Drobo Solution — Enhancements such as multiple stream optimization and dual Gigabit Ethernet interfaces for high-speed iSCSI deliver best-in-class performance.
Tested VMware-ready Features — With dual iSCSI ports and the ability to create up to 255 Smart Volumes, DroboElite can support growing VMware environments and advanced VMware functionality including VMotion, Storage VMotion, snapshots, and high availability.
8-Drive Capacity with Instant Capacity Expansion to 16TB and Beyond — DroboElite ensures continuous data access by automatically expanding data capacity and enabling IT managers to efficiently mix and match drive brands, capacities, and speeds.
Advanced Thin Provisioning — Smart Volumes allow companies to create new volumes in seconds and manage them over time by pulling storage from a common pool rather than a specific physical drive allocation. Smart Volumes are also file system aware which allows deleted data blocks to be immediately returned to the pool for future use.
Simplified Dual-Drive Redundancy — Companies are protected against the simultaneous failure of up to two hard drives without losing access to their data. With a single click, companies can switch back to single disk redundancy if capacity runs low without losing access to their data.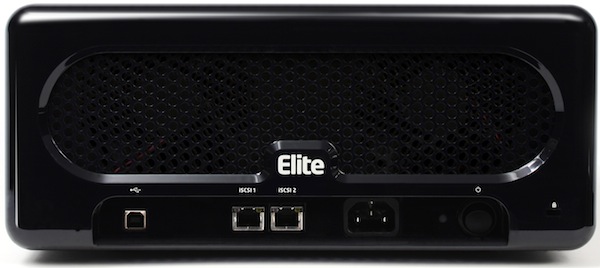 "Data Robotics' continued success is a testament to our providing the best data storage experience ever. Our products are exceedingly simple and straightforward to use while providing all of the features that SMBs need to keep their data safe and accessible," said Dr. Geoff Barrall, CEO and founder of Data Robotics. "We can deliver cost savings up to 90 percent compared to other iSCSI solutions by combining cost-effective hardware with robust iSCSI features. The new DroboElite takes our solutions to a significantly higher level of performance and supports our mission of bringing the benefits of BeyondRAID technology to a much greater range of businesses."
Pricing and Availability
DroboElite is currently available at a starting of $3,499 MSRP, with multiple configurations to $5,899 for a 16TB (8x 2TB) solution. DroboElite is available now from select partners worldwide and on www.drobostore.com.