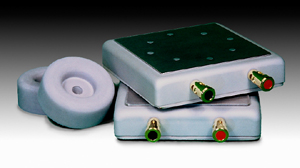 CROWSON TECHNOLOGY'S TES 100 (TACTILE EFFECTS SYSTEM) AND BMP3 (BASS MANAGEMENT/PRE-AMPLIFIER) DELIVER "STEREO" TACTILE EFFECTS!
Santa Barbara CA, Apr, 2004/Crowson Technology — California home entertainment innovator proudly announces the release of the TES 100 Tactile Effects System and the hotly anticipated release of the BMP-3 Bass Management/Pre-Amplifier and the A-200 Stereo Amplifier.
Crowson's patent-pending Linear-Direct-DriveTM technology transfers vibrational motion to home theater seating in a uniquely direct and powerful manner. The amazingly compact TES 100 tactile transducer harnesses the low frequency energy of an existing home theater audio system to dramatically bridge the gap between cinema and reality. See, hear and FEEL the gut-wrenching punch of a fiery explosion, the bone-jarring crack of a gunshot, the deep, rhythmic vibrations of a powerful muscle car, or the warm, soothing resonance of a contrabass.
Crowson Technology tactile products require no intrusion into existing furniture and are compatible with virtually any audio source and seating.
The TES 100 is available in two convenient packages, Couch Kit (MSRP $649) and Chair Kit ($349). Add two soon-to-be-released products, the BMP-3, Bass Management/Pre-Amplifier – 3 Channel, (MSRP $99) and the new Crowson A-200 Amplifier (MSRP $349), to a TES 100 Couch Kit for the ultimate tactile system on the market. This premium setup delivers an exciting new steering capability for "stereo" tactile effects. Watching a powerful stock car zoom from left to right across your screen now means FEELING the ground-quaking engine, racing from left to right in your seat! Additional features allow capturing all audio track bass content (not just the LFE channel), with independent gain control across 3 input channels.
TES 100
Dimensions: W 5.5″, L 6.1″, H 1.1″
Recommended power: 50-500Watts RMS
Frequency response: 1-500Hz
Kit max load: 1000lbs.
Nominal Impedance: 6 ohms
Weight: 3.5lbs
BMP-3
Dimensions: W 4.25″, L 4.5″, H 1.75″
Inputs: 3 x RCA
Outputs: 2 x RCA, 1 x 1/4″
Input Impedance: 10Kw
Max Gain: +27dBV
THD + Noise: < .005%
Weight: 1.2lbs
MOVE YOURSELF! For more information and to buy Crowson products, visit www.crowsontech.com or email us at info@crowsontech.com. Dealer inquiries welcome.