Improves the Audio Quality of Music, Movies and Games on Your Notebook PC and Plays It Wirelessly Through Speakers in Any Room of Your Home
Creative today announced the Sound Blaster X-Fi Notebook sound card, designed to make all of your iTunes, Rhapsody, Napster and MP3 music, movies and games on your notebook PC sound better. It fits easily into the ExpressCard slot to upgrade the latest notebook PCs to premium sound systems with award-winning X-Fi audio technology.
The Sound Blaster X-Fi Notebook when combined with the Creative Wireless Receiver frees you from having to directly connect your notebook PC to your speakers. Just relax on your couch with your notebook PC and listen to your music, play a game or watch a movie while the audio plays wirelessly through the Creative Wireless Receiver connected to powered speakers in any room of your home. You can place up to four speaker systems with Creative Wireless Receivers up to 100 feet away from your notebook and your audio will play wirelessly with no delays or dropouts, without requiring a wireless network. You can also set up individual zones to control playback independently in specific rooms.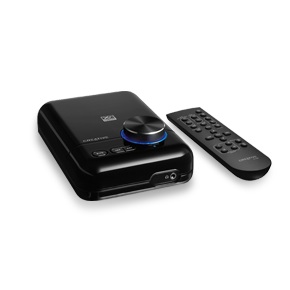 "The Sound Blaster X-Fi Notebook and Creative Wireless Receiver were designed to dramatically improve the sound quality of all of the music, movies and games on your notebook PC and play it wirelessly anywhere in your home. This allows you to put your speaker systems where you want them without having them tied to your laptop and stuck on your desk," said Steve Erickson, VP and GM of audio for Creative.
Creative's award-winning X-Fi audio technology provides significant benefits to any audio listening experience. For music, X-Fi Crystalizer technology utilizes audio algorithms to selectively restore the highs and lows from instruments and vocals that were damaged or diminished during the iTunes, MP3, game audio or other compression processes.
For PC gaming, X-Fi CMSS-3D technology provides a compelling surround sound experience for headphones so gamers can hear the precise position of their opponents even when they cannot see them. The Sound Blaster X-Fi Notebook also features Creative's EAX ADVANCED HD audio technology, for stunning positional audio realism in today's hottest games.
For movies, the Sound Blaster X-Fi Notebook card includes a free download of PowerDVD software with full DTS and Dolby Digital decoding support. CMSS-3D technology provides virtual surround sound through stereo speakers or headphones for an immersive cinematic movie audio experience.
Pricing and Availability
The Sound Blaster X-Fi Notebook, priced at US$89.99, is available today at Amazon.com, Buy.com, Creative.com, Frys.com and Newegg.com. The Creative Wireless Receiver, priced at US$69.99, will be available this month at Creative.com. For more information about the Sound Blaster X-Fi Notebook and the Creative Wireless Receiver visit Creative.com.
About Creative
Creative is a worldwide leader in digital entertainment products. Famous for its Sound Blaster sound cards and for launching the multimedia revolution, Creative is now driving digital entertainment on the PC platform with products like its highly acclaimed ZEN and MuVo MP3 and portable media players. Creative's innovative hardware, proprietary technology, applications and services leverage the Internet, enabling consumers to experience high-quality digital entertainment — anytime, anywhere.
This announcement relates to products launched in the United States. Availability is subject to change without notice and may differ elsewhere in the world according to local factors and requirements. Sound Blaster, X-Fi, Crystalizer, CMSS-3D and ZEN are trademarks or registered trademarks of Creative Technology Ltd in the United States and/or other countries. All other trademarks are the property of their respective owners.
creative sound blaster Reviews
From Critics Around the Web