Coloud announced the release of Coloud Colors C19M in-ear headphones with microphone and remote functionality.
The Coloud Colors C19M is the first in-ear model to launch in the Coloud family, and comes in an array of colors such as pink, red, purple, green, blue, black and white–allowing you to mix and match your headphones to fit your personal style and daily wardrobe. The Coloud Colors C19M is available now at Coloud retailers worldwide and online at www.coloud.com for $25.

The C19M model features a microphone and remote function allowing you to pick up calls and communicate to others while listening to your music. To use the remote simply "click" once to receive and end calls, twice to forward your music and three times to go back. The microphone and remote are compatible with most mobile phones featuring a 3.5mm plug.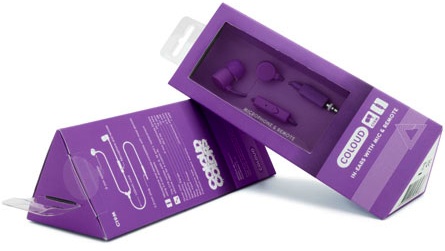 The C19M packaging reflects the signature Coloud triangle logo, giving it a triangular shape that is easily recognizable. Included in the package are three sizes of ear-caps (small, medium and large) for a custom fit.
All Coloud headphones come with a one-year replacement warranty.
About Coloud
Coloud headphones are developed in Sweden and produced in China. At Coloud we strive to give you the best possible product with a great value for your money. We endorse design, function and quality headphones that enrich your media experience.