State-of-the-Art Projector for Elite XXL Home Cinemas
Cineversum has announced an exciting addition to their roster of High Definition digital video projectors. The FORCE ONE is a state-of-the-art multi-use full-HD 1080P digital projector with a 16:9 native aspect ratio, and designed to be used with screens up to 49 feet wide. It features three 0.95″ DLP 1920×1080 panels, a 10,000:1 contrast ratio and up to 6,000 ANSI lumen brightness. Retail price of the FORCE ONE (without lens) in the U.S. and Canada is US $95,000, and availability will be limited a few select dealers in the U.S., Canada, and the Caribbean.
There are multiple lens options, from high-quality Absolute HD™ fixed lenses (0.67:1 and 1.1:1) to 6 different motorized Absolute HD™ lenses (1.16 to 1.49:1 up through 6.9 to 10.4:1 for extremely large screens). Pricing ranges from $15,225 to $19,000.
Contrast Ratio, Brightness and Screen Size
Jean-Claude Younes, CEO of Cineversum, was asked to explain the comparison between this new elite projector and the recently introduced BlackWing Three mk2010 HD projector, "I've been asked how can a FORCE ONE with a 10,000:1 contrast ratio be superior to a BlackWing Three with a 50,000:1 ratio. The full on/off contrast measurement method favors small projectors which have a naturally low darkness, improving the full "off" measurement by a fair amount. Obviously, a BlackWing, also due to the LCoS technology excels in this domain. The FORCE ONE beats its natural competitors because its native contrast ratio 2500:1 (already superior to most, if not all competitors), is enhanced by an ultra-high performance dynamic iris, bringing, at an impressive 6000 ANSI lumens, the contrast up to 10,000:1. That is the first time that a 49 foot screen can be displayed with a 5-digit full on/off contrast ratio.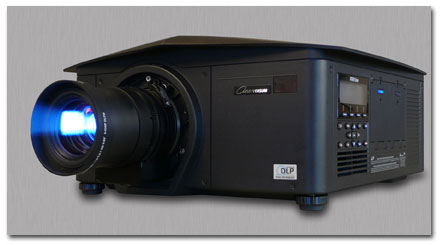 "A FORCE ONE is more perfectly paired to a super-large screen than a BlackWing because of its ANSI contrast. This measurement is done with a checkerboard patterned test image (in our case, a 16-point check) where the luminosity values are measured simultaneously. This is a more realistic measure of system capability, but includes the potential of including the effects of the room into the measurement, if the test is not performed in a room that is close to ideal. Literally, the width of the screen and the ambient brightness of the room will be taken into account. The bottom of the ANSI contrast range is 1:1, which means that you cannot distinguish a dark pixel from white ones within a single picture. The top of the range is ideally infinite:1 which means that whatever your screen size, you will be able to obtain a neat separation between your darkest pixels and whitest pixels. Concretely, the ANSI contrast for a projector will define its capability to keep the distinction between every pixel displayed on the screen.
"In this type of test, most projectors on the market have a contrast around 300:1, the BlackWing mk2010 projector is around 400:1, whereas the FORCE ONE reaches 650:1, which is practically the best available in the marketplace today. This means that if you compare a FORCE ONE and a BlackWing Three on an 80-inch wide screen, you are likely to prefer the soft CRT-like image of the BlackWing to the strong image of the FORCE ONE. But on a 200-inch wide screen, the BlackWing will now look softer while the FORCE ONE will still be crisp and detailed. On a 30-foot wide screen, the BlackWing output will look totally underpowered, the colors will look "washed". Still on a 50-foot wide screen, the Force will keep showing rich colors, high contrast and amazing details. For this reason, our engineers call it a projector for XXL screens."
John Caldwell, sales director for StJohn Group, stated, "This is truly a projector for the elite home cinema enthusiast. The FORCE ONE has the same style and high design as the acclaimed BlackWing projector series and comes in a futuristic deep metallic-black ABS plastic chassis designed in Paris, France. They will appreciate the projector's True Cinema Black™ and a real white unlike anything ever seen before in home cinema, plus its quiet operation.
"Custom installers will appreciate a host of top-of-the-line features, including the FORCE ONE's dual lamp system with hot-swap technology, multiple lens and input options (up to 8 x HDMI 1.3 inputs, dual SD/HD-SDI input boards), multi-standard video compatibility, expert calibration presets, and home automation-friendly control (RS232, RS422 and Ethernet 10/100)."
Specifications
3-chip Full HD projector
1920×1080 0.95″ DLP chips
4x Input board slots:

1x Analog BNC: RGBHV or YPbPr
1x Dual-link DVI (DVI, HDCP + Sub-D15)
2x free slots (see below)

Dual lamp system:

Lifetime: 2000 hrs @ 200W, 3000 hrs @ 150W
SLM™, Smart Lamplife Management
Separate hot-swappable lamps

Brightness:

6000 ANSI Lumens: dual-lamp mode, 200W
2250 ANSI lumens: single-lamp mode, 150W

99 channel profiles for picture & lens settings:

Image settings, size and position
Fully Motorized and programmable lenses: zoom, focus, shifts
Motorized and programmable dynamic iris
Motorized Yellow Notch filter
±60% vertical, ±21% horizontal Lens shift

Weight: Net 55 lbs./25 kg.; Gross 87 lbs./39 kg
Dims (LxWxH): 23.2″ x 22.3″ x 11.0″ – 590x565x280mm
Power consumption:

870W, 8.7A@100VAC
<20W standby mode

Control:

IR remote control
Backlit LCD with touchpad
Web interface, Ethernet 10/100
RS-232 in/out
RS-422 in
GPIO connector: 7 prog. trigger ins/outs

Optional Inputs (total of 4 slots)
Analog BNC: RGBHV or YPbPr
Dual-link DVI (DVI, HDCP + Sub-D15)
Twin HDMI (2x HDMI in, 2x HDMI out)
Dual SD/HD-SDI (2x SDI inputs)
Standard Video (1x Composite, 2x S-Video, 1x Component)
Accessories

Ceiling mount
Ceiling mount extension
Spare lamp
Dust filter
About Cineversum
Cineversum initially was conceived as the dedicated consumer brand for famed Belgian video manufacturer Barco. In September 2004, Technic Electronic Conseil (T.E.C.) took over worldwide distribution of Barco's home theater business, including the Cineversum name. T.E.C. is based in the Montmartre district of Paris, France.
Led by French industry pioneer Jean-Claude Younes, T.E.C. has successfully developed the Cineversum Home Cinema Concept. In close cooperation with partners such as Barco, Cineversum has steadily built a range of cutting-edge video products for the professional home theater market and are distributing them worldwide through a network of specialist distributors.
The BlackWing line, dedicated to the professional A/V installer, was awarded the prestigious Product of the Year 2008 award by Electronic House magazine.
Cineversum FORCE ONE Brochure (930k .pdf) — Download