Anti-Blur Technology and State-of-the-Art MPEG-4 Movie Features Found in Newest EXILIM Camera
June 9, 2005, Dover, NJ — Casio Computer Co., Ltd. in conjunction with Casio, Inc. announces the release of the newest addition to the EXILIM CARD digital camera series. True to the series, the EX-S500 model is barely bigger than a credit card and just .54″ at its thinnest point. Packed into the pocket-sized body are 5.0 mega pixels and MPEG-4 quality movie recording capabilities, allowing more than one hour of standard video recording when using a 1GB SD memory card. Casio's EXILIM Engine's Anti Shake Digital Signal Processor also makes blurry pictures nearly a thing of the past.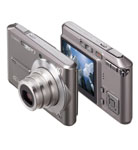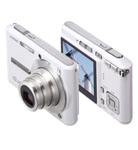 The EX-S500 is a culmination of Casio's core technologies, combining cutting-edge miniaturization and digital expertise with state-of-the-art movie recording capability. As with all digital cameras in the EXILIM Series, the EXILIM CARD features Casio's EXILIM Engine, an image processing module that makes for high quality images, quick operation, and low power consumption that has made EXILIM the camera of choice for many users. The latest version of the EXILIM Engine features the Anti Shake DSP, which reduces blurring caused by shaking hands or moving subjects, while the Auto Macro and Quick Shutter functions ensure that photos are properly focused.
"The EX-S500, which is available in fashionable white, orange and gray colors incorporates Casio's heralded EXILIM Engine along with advanced MPEG4 quality movie capabilities and anti-blur technology— all in a digital camera that's barely the size of a credit card," says John Clough, President of Casio, Inc. "In a market where manufacturers are selling disposable camcorders because of their portable travel appeal, the S500 is the perfect icon for permanent multi-functionality exhibiting a re-useable "best of class technology" as an affordable business, leisure and fashion accessory."
In addition to the anti-blur technology, 5.0 mega pixel resolution and 3X zoom capability means high quality pictures. A large 2.2-inch TFT LCD screen makes still and video photography easy to shoot, and the lithium ion rechargeable battery allows up to 200 shots on one charge.
The pocket-sized EX-S500 is quick and easy to use for both business and pleasure. Comparable in size and weight with most cell phones, the EX-S500 is conveniently portable, taking high quality pictures and movies anywhere, anytime.
Casio, Inc., Dover, N.J., is the U.S. subsidiary of Casio Computer Co., Ltd., Tokyo, Japan. Casio, Inc., markets calculators, keyboards, digital cameras, mobile presentation devices, portable color TVs, timepieces (Wrist Technology), cash registers and other consumer electronic products. Casio, the unexpected extra — for more information visit our web site at www.casio.com.