Personalized, Colorized and Optically Image Stabilized
The PowerShot SD1100 IS Digital ELPH camera -the newest entry in Canon U.S.A., Inc.'s ever-fashionable line of catwalk-worthy ELPH cameras — adds another dimension to the line's active lifestyle eye appeal: color. Whether the activity du jour involves painting the town red, dancing 'til dawn, soaking up golden rays as the sun rises over a coral-colored beach or getting lost in a loved ones' baby blues, these petite and colorfully clad cameras make the scene and capture it, for the magic of the moment or for more enduring memories.
The Canon PowerShot SD1100 IS Digital ELPH camera is offered in five lyrically named designer shades that suit the style, present the personality and express their user's taste and tempo. From the eclectic mix of antique elegance and au courant accessorizing of Bohemian Brown; the shimmering chic and subtle heat of Pink Melody; the wistful and occasionally wild stirrings of Rhythm and Blue, and of course, the exquisite refinement and enduring appeal of precious metals conveyed by the PowerShot SD1100 IS Digital ELPH camera dressed only in its Golden Tone skin or catching the array of light — both brilliant and soft–as it plays on the camera body's Swing Silver sheen, these cameras capture the images at hand while conveying a picture of their users worth at least a thousand words.


Still, the PowerShot SD1100 IS Digital ELPH camera is not just another pretty face. This feature-rich, pocket-sized, 8.0 megapixel, optically image stabilized digital camera is firmly rooted in the traditions of photo excellence and imaging innovation that Canon is known for.
"We recognize that many Digital ELPH camera users view their cameras as statements of personal style, valued as much for the image they convey as the images they capture," said Yuichi Ishizuka, senior vice president and general manager, Consumer Imaging Group, Canon U.S.A. "The color choices of the PowerShot SD1100 IS Digital ELPH camera create additional opportunities for personalization and individual expression."
A Sharp Zoom Lens with Image Stabilization
Adding to the new camera's versatility and optical excellence is its sharp and fast 3X optical zoom lens (38-114mm equivalent opening up to f/2.8 at wide-angle settings and f/4.9 at telephoto settings). The PowerShot SD1100 IS Digital ELPH camera also features Canon's advanced Optical Image Stabilization (OIS) system that significantly reduces the image-blurring effects of camera shake by shifting the lens to compensate for the movement. Available for the first time in an entry level Digital ELPH, Canon's OIS technology is proven effective for extended telephoto shots as well as low-light shooting conditions and helps users get the best possible picture quality every time.
Genuine Face Detection Technology
Beyond their appeal on the social scene, the PowerShot SD1100 IS Digital ELPH cameras feature the latest and most advanced generation of Canon's Genuine Face Detection technology, thus ensuring that up to nine forward-looking faces in the frame — whether posed for a family portrait, candidly capturing friends and fun, or spontaneously snapping a toddler's expression of triumphant glee as two halting steps — are in focus and properly exposed, with or without flash. In addition to focus and exposure control, the SD1100 IS camera's Face Detection feature captures truer, more accurately lit skin tones (and hence more beautifully rendered pictures) thanks to Canon's improved face detection white balance.
Face Selection and Motion Detection Technology
While the face detection algorithm automatically prioritizes up to nine human faces in a scene, it can also be instructed via the Face Select and Track function to lock on to a single face in the crowd, ensuring that the chosen countenance is finely focused, no matter where it appears in the frame. Additionally, a new Motion Detection function linked to the camera's High ISO Auto mode improves image clarity by raising ISO speeds (and shutter speeds) for fast-moving subjects or lowering ISO speeds to reduce noise when the subject is stationary. These automatic advances provide even more ways for the PowerShot SD1100 IS Digital ELPH cameras to optimize picture quality with seamless ease.
DIGIC III
The "brain" in every new Canon digital camera is Canon's proprietary DIGIC III imaging processor. This exclusive chip is responsible for the cameras' higher performance levels including faster start up, faster autofocus and quicker shutter response times that leave long lag competitors far behind. What's more, DIGIC III improves both the image quality and the cameras' power consumption, extending the battery life under typical shooting conditions.
See and be Scene
The PowerShot SD1100 IS Digital ELPH camera offers users a choice of 18 shooting modes including a fully automatic mode that makes these cameras a true point-and-shoot affair; a semi-automatic "Camera M" mode which allows access to features such as Exposure Compensation and White Balance adjustments that Full Auto mode does not, as well as a plethora of scene selection modes – including Canon's new Sunset mode — that optimize image results under a variety of shooting conditions.
These scene modes put the power of Canon's collective photo expertise into the hands of even the most rookie shooter, ensuring that in the end, the shots are the best that they can be, whether indoors or out; in day or night light (and now, with the Sunset setting, in between too); through an aquarium glass; across stark snowy vistas or bleached sandy beaches; into lush, colorful foliage or at a brilliant burst of fireworks against a black satin sky.
The PowerShot SD1100 IS Digital ELPH cameras feature Canon's precise 9-point Autofocus system along with the new AF-Point Zoom feature that work together with Face Detection Technology to allow users to double check the facial expressions of their subjects, when shooting under more challenging conditions. After activating the feature in the camera's menu, the AF-Point Zoom can be engaged simply by pressing the shutter button halfway.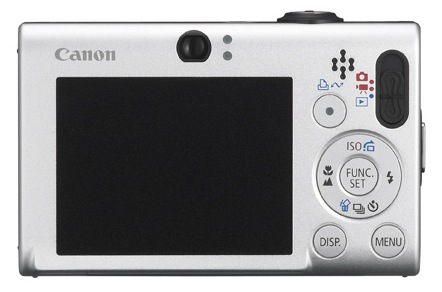 Streamlining the image review process, Canon's Intelligent Orientation Sensor determines whether a scene is being shot as a vertical or horizontal image and automatically adjusts it for quick and easy review on the camera's bright, sharp and easy-to-read, 230,000-pixel 2.5 inch Pure Color LCD II screen. The Image Inspection Tool feature zooms in on faces automatically during playback to make it even easier to check facial expressions. The new cameras also feature Canon's newly developed Automatic Red Eye Correction that engages in the shooting mode, minimizing the need for correction before printing or sharing images. In-Camera Trimming is yet another new advancement that allows users to adjust and save cropped versions of their images without using a computer. As an added convenience, the PowerShot SD1100 IS Digital ELPH cameras are compatible with MMC, MMC+ and HC MMC+ memory cards as well as standard SD and SDHC memory cards.
In the Box
Scheduled to be in stores beginning in March 2008, the five color versions of the PowerShot SD1100 IS Digital ELPH camera kit each include a battery pack and charger, a 32MB SD Memory card, a USB interface cable, an AV cable, a wrist strap, and Canon's software suite. Each kit carries an estimated retail price of $249.99*
Optional accessories include a waterproof case rated for depths up to 130 feet, a wireless flash unit, an AC Adapter Kit, and much more including a full line of compatible Canon PIXMA and SELPHY compact photo printers.
About Canon U.S.A., Inc.
Canon U.S.A., Inc. delivers consumer, business-to-business, and industrial imaging solutions. Its parent company, Canon Inc. (NYSE:CAJ), a top patent holder of technology, ranking third overall in the U.S. in 2007**, with global revenues of $34.9 billion, is listed as one of Fortune's Most Admired Companies in America and is on the 2007 BusinessWeek list of "Top 100 Brands."
* Prices are estimated retail prices. Actual selling prices are set by dealers and may vary.
Availability, specifications and prices are subject to change without notice.
** IFI Patent Intelligence Press Release, January 2008