Canon U.S.A., Inc. announced new PIXMA printers with a new Full High Definition (HD) Movie Print feature. In addition to this new and exciting technology, these new models will feature improvements to Auto Photo Fix II to further enhance those near perfect memorable moments while Easy-PhotoPrint EX software now allows users to search and use images from Flickr.
When attempting to capture the experience of being around the family during the holidays or attending a birthday party where a baby is blowing out candles on a cake, a once in a lifetime chance to capture the perfect image can pass right before hitting the shutter button. Now when using the new Full HD Movie Print with compatible HD Canon EOS and PowerShot Digital cameras, consumers can print individual frames of movies while helping to bring those hard to capture, memorable moments to life. Whether using still or movie capabilities, users can be confident the memories being preserved will be of high quality both from the time the memory is captured to when it is time to share with friends and family by providing a keepsake photo.
The new Canon PIXMA MG5220 and PIXMA MP495 Wireless Photo All-in-One printers provide users with many improvements to increase overall quality and ease-of-use. With enhanced Easy-PhotoPrint EX software, images can now be searched for and used from Flickr providing further flexibility to consumers interested in printing high-quality photos, albums, calendars, layouts and stickers from computers without having to launch an internet browser. Auto Photo Fix II, which helps correct common photo errors, has been improved as well with enhanced light source recognition and color cast correction resulting in an increase in the overall image quality of printed images.
Upgrades to the enhanced Easy-WebPrint EX software (Windows® Only) include a new Fit-to-One-Page button for easy printing of texts and images from websites. This button can be especially useful when printing driving directions so both the map of the area and the step-by-step directions are on one easy to read page. This new software will also provide printing of multiple documents into a booklet format for easy handling and improved organization while images can be inserted into the print layouts allowing users to personalize their information even further.
The Canon PIXMA MG5220 Wireless Photo AIO printer feature five individual ink tanks with the ChromaLife100 + ink system and has a maximum color resolution of 9600 x 2400 dpi and can create a 4″ x 6″ borderless photo of superb quality in approximately 20 seconds. The Advanced Media Handling capabilities with Auto Duplex printing and a two-way paper feed can help reduce paper usage and the amount of time to complete a project. A 2.4-inch TFT screen and newly redesigned user interface will help make scrolling through menus and viewing of images much quicker and easier as well.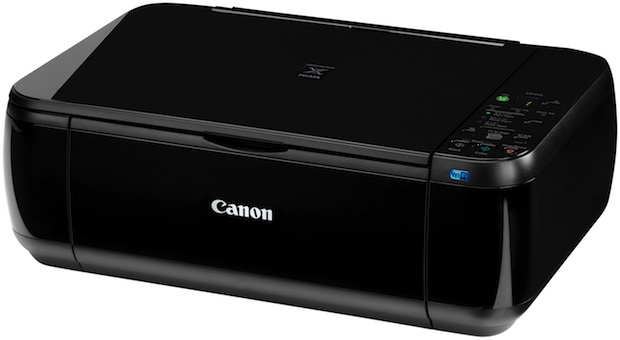 The more affordable PIXMA MP495 Wireless Photo AIO printer offers the ChromaLife100 + ink system and a maximum color resolution of 4800 x 1200 dpi. This new printer can produce a 4″ x 6″ high-quality borderless photo in approximately 41 seconds In addition the printer features Auto Scan Mode, which automatically recognizes the type of original, then scans and saves the suitable settings, further adding to its overall ease-of-use.
As an added incentive, both printers are 802.11n Wi-Fi certified which will allow for a faster network transfer rate. Wireless networks can be set up with the press of one button when using a Wi-Fi Protected Setup (WPS).
A new option for users of smartphones equipped with the Android OS is the free Canon Easy-PhotoPrint (EPP) for Android application allowing images captured with the phone's camera to be printed quickly and easily shared with friends and family. For Apple iPhone®, iPod touch® and iPad mobile device users, the Canon Easy-PhotoPrint for iPhone (iEPP) application is also available for free on the App Store.
Pricing
PIXMA MG5220 Wireless Photo AIO printer is $149.99
PIXMA MP495 Wireless Photo AIO printer has a $79.99