Compact Dual Drive NAS Solution Gets a Performance and User Interface Overhaul
Buffalo Technology just announced an enhanced model of the sleek and compact dual drive LinkStation Mini™. Featuring increased performance, silent operation, a new user interface and support for RAID 0 and RAID 1, the LinkStation Mini offers a feature-rich network storage solution like no other, wrapped up in a small, lightweight package. Fast, reliable, compact, and silent, the LinkStation Mini fits into any environment.
Buffalo's dual drive LinkStation Mini network storage server offers a variety of features for home and business users. Quickly back up, store and share documents, music, photos and videos in a secure, central location with easy access from multiple computers simultaneously. Support for RAID 0 and RAID 1 provides users the choice between maximum capacity and performance or maximum redundancy and reliability.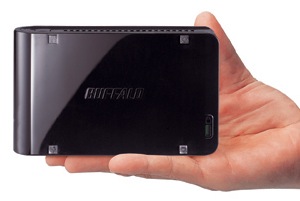 "Buffalo strives to provide consumers with intuitive solutions that are simple to install and use, so that protecting digital assets is almost automatic," said Ralph Spagnola, vice president of sales at Buffalo Technology. "With the compact dual drive LinkStation Mini, Buffalo has delivered a powerful yet compact network attach storage drive that can quickly and securely protect data, photo, video, and music files from a central location with the automatic protection of RAID 1."
Paired with two 2.5″ hard drives and measuring in at 1.57 x 3.22 x 5.31 inches, the LinkStation Mini is the smallest NAS on the market, fitting in the palm of your hand. The fanless design ensures reliable, near silent operation for noise-sensitive settings such as studios, bedrooms, and living rooms. Perfect for streaming multimedia, the LinkStation Mini features gigabit Ethernet connectivity and exceptional performance in a small package.
Available in 500GB and 1TB capacities, the LinkStation Mini incorporates an impressive array of small business features including Active Directory integration, user and group permission settings, and secure SFTP remote access. Also included is the Remote Power Feature, a tool used to power up the unit remotely using the included Navigator software. The USB port on the back of the unit can serve as a method of expansion by adding an external hard drive or it can be used to attach a printer to the network via the integrated print server. Additionally, LinkStation Mini supports UPS alerting, so the unit can gracefully shutdown in the unexpected event of a power failure.
As a DLNA CERTIFIED ™ media server, the LinkStation Mini streams content to any DLNA compatible media device, including PlayStation 3 and Buffalo's LinkTheater products. The LinkStation Mini is also an iTunes server, seamlessly integrating with and allowing iTunes access to music files stored on the server's hard drives. Support for Apple Time Machine and Apple File Protocol (AFP) make it well suited for any Mac environment. And for anyone on-the-go, Buffalo's free Web Access feature makes it a cinch to store, share and access files from any web browser via a PC, Mac or iPhone.
Pricing and Availability
The Buffalo LinkStation Mini is backed by a limited one-year warranty and includes toll-free, 24/7 technical support and is available at an estimated street price of $229.99 for the 500GB (LS-WSX500L/R1) and $329.99 for the 1TB (LS-WSX1.0L/R1).