Bowers & Wilkins announced the entry-level priced CI 300 series in-wall speakers for custom installations. There are three models in the CI300 series: the CWM362, CCM362, and CCM382:
CCM362 ($300/pr) is an in-ceiling model with a 6-inch polypropylene cone bass/midrange driver and a 1-inch soft-dome tweeter. (Pictured above).
CCM382 ($400/pr) is a larger in-ceiling speaker with the same 1-inch soft dome tweeter but with an 8-inch bass/midrange driver to provide deeper bass and higher sensitivity.
CWM362 ($400/pr) is a two-way, in-wall speaker based on the CCM362's driver set.
The CI300 models feature the same thin bezeled frame as the CI600 models, and the ceiling models can be used with optional square grille adapters designed to match popular in-ceiling lighting designs. They share the same cutout sizes, so PMKs and backboxes can be used interchangeably. Swing-out dogs and spring-clip wire terminals keep installation simple and easy.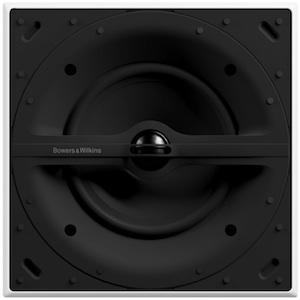 The CI300 models have been designed with high moisture resistance for use in bathrooms, indoor pool areas, and more. Shallow in depth, the CCM362 is only 3.2″ deep, and the CWM362 is 3″ deep, to fit in 3″ stud bays (assuming at least 1/2-inch Sheetrock.)
"Our high-value, high-performance in-wall and in-ceiling CI 300 speakers are entry-level in price only," says Doug Henderson, V.P. Sales & Marketing. "The same acoustic and industrial design teams that created the higher-end ranges, led by Dr. John Dibb, developed the CI 300 models. From sound quality to installation mechanics, the CI 300s are extremely well-executed designs that have no peers at their price points."
"While the new 300 Series has been designed for budget applications, the performance is clearly first rate." continues Henderson. All drivers, crossovers components, and construction materials have been specified and evaluated by the best ears in the business. The sound is unmistakably B&W."
Price and Availability
The CI300 series is available now in either round or square grill options.