Boston Acoustics announced five new Voyager Series Indoor/Outdoor/Marine loudspeakers to withstand the harshest weather and temperature conditions. Scheduled for delivery in September 2011, the new Voyager Series models include:
The Voyager Metro II (pictured in the middle above) plays stereo sound from a single speaker enclosure and is ideal for outdoor locations with limited space.
With their water resistant designs built to IEC 60529 IPX5 standards, rust resistant hardware and connectors, powder-coated aluminum grilles and UV-resistant polypropylene cabinets (available in either black or white), Boston Acoustics' Voyager speakers ideal for mounting to the side of a house, on a deck or porch, poolside, on a boat, or anywhere else a premium sound solution is desired. The super rugged and durable Voyager speakers are also ideally suited for indoor use, as well as indoor or outdoor commercial applications such as restaurants and fitness centers.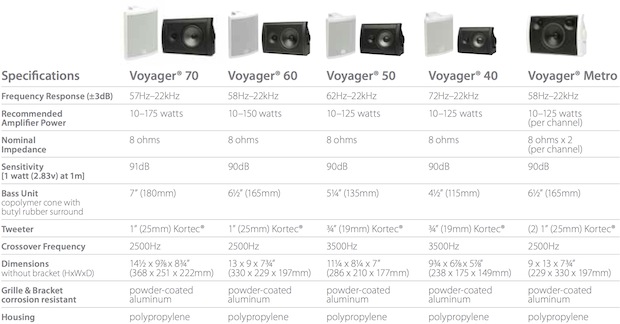 Features
Special acoustical voicing for ultimate performance in open-air environments;
Kortec dome tweeters for crystalline high-frequency sound. Kortec is a polyester woven dome with a special stiffening agent creates a tweeter with the high frequency extension typically associated with metal dome tweeters, but without the harshness that is a property common to most metal domes;
Deep Channel (DCD) driver design that makes the most of the available amplifier power by using a deeply grooved pole plate that enables the voice coil to travel farther, for greater output without bottoming;
Heavy-duty, aluminum C-brackets and unique wedge shape design that makes mounting easy and aesthetically pleasing