Three New Classic Series Wireless-Ready Subwoofers Offer Rich, Room-Filling Bass and Total Placement Flexibility when Used with Optional Wireless Transmitter
Boston Acoustics, Inc. today announced three new Classic Series wireless-ready subwoofers, each with built-in wireless receivers. The new Classic Series subwoofers include the:
8″ 200-watt (350-watt Peak) CPS 8Wi ($399.99)
10″ 300-watt (650-watt Peak) CPS 10Wi ($499.99)
12″ 400-watt (850-watt Peak) CPS 12Wi ($599.99)
All three are available in either Black Walnut or Cherry vinyl finish and work in conjunction with Boston Acoustics' new WT 50 Wireless Transmitter ($79.99). The CPS 10Wi model is now available, while the CPS 8Wi and CPS 12Wi are expected to be available later this month.
Total Placement Flexibility, with Classic Series Performance
The new Boston Acoustics wireless-ready subwoofers allow consumers to play wirelessly and enjoy all the thunder, performance and value they've come to expect from Boston Acoustics — without the clutter. Thanks to each subwoofer's built-in digital wireless receiver and the WT 50's extended 50-foot range, users can place the new subwoofers literally anywhere in a room and enjoy clean, room-filling bass.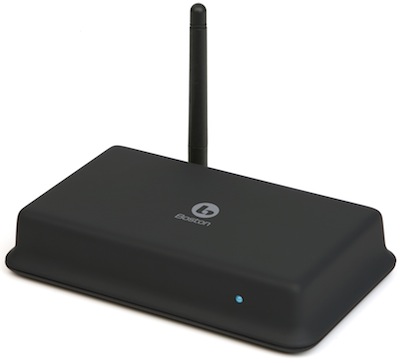 Each subwoofer comes with both speaker- and line-level inputs for easy and flexible setup, while their front-firing, front-ported design also makes them well suited for custom cabinet installation. Ideal for enhancing the enjoyment of both music and movies, the new CPS Wi Wireless-Ready subwoofers are an important addition to the Boston Acoustics Classic Series line, bringing together the latest technologies with the best elements of traditional loudspeaker style and design.
Joe Stinziano, Senior VP of Sales and Marketing for Boston Acoustics, noted: "Our new wireless-ready subwoofers are a convenient and affordable solution for enjoying truly superior bass response. Like all Boston Acoustics speakers, every component in these new models has been engineered to meet the highest performance standards. With the optional WT 50 wireless transmitter, which is available separately, you can hide the subwoofer anywhere in the room and still experience incredible bass."
With their ported enclosure designs, the three subwoofers boast frequency responses of 31Hz — 150Hz (CPS 8Wi), 28Hz — 150Hz (CPS 10Wi) and 25Hz — 150Hz (CPS 12Wi). All three feature volume control, phase switch, speaker-level inputs, line level input and LFE input. These controls provide maximum flexibility and the ability to fine-tune performance to suit the user's taste and room acoustics.
Boston Acoustics' advanced graphite-injected woofers and Deep Channel Design (DCD) technology ensure dramatic and powerful woofer performance from the included power amplifiers. Patented BassTrac audio processing produces the clean distortion-free bass that brings music and movies to life at all output levels. The built-in wireless receiver's selectable broadcast ID channels ensure crystal clear audio at all times.
Product Features:
Play wirelessly with the optional 2.4GHz WT50 Wireless Transmitter (available separately)
Superior bass from a high-output front-firing, front-ported design
BassTrac circuitry provides tight, distortion-free bass at all output levels
Deep Channel Design (DCD) woofers provide more bass from less amplifier power
Ultra-rigid reinforced cabinet minimizes vibration and improves driver performance
All Classic Series speakers can be combined with each other in any configuration, allowing owners to easily create the ideal system for their specific listening needs. The three new Classic Series powered subwoofers give consumers even more options for achieving great sound — allowing them to select the perfect low-frequency audio solution to match any Classic Series loudspeaker system.
About Boston Acoustics
Founded 30 years ago, Boston Acoustics is a world-renowned leader in high-performance loudspeakers, tabletop products, and advanced car audio systems. The company's "Play Smart™" approach is reflected in its product design, which allows customers to enjoy high-performance audio while expressing their personal style and tastes.
Reviews Around the Web:

boston acoustics cps