Barnes & Noble today announced the all-new NOOK, The Simple Touch Reader. With a full touchscreen, NOOK features record-setting, extra-long battery life on the easiest-to-use, ultra-light, portable 6-inch eReader with the most-advanced E Ink Pearl display, and the world's largest bookstore available by Wi-Fi.
With a simple tap to the 6-inch touchscreen, it's intuitive and easy to navigate, shop and read. Customers can look up words, highlight passages, adjust the font size and style or search by typing on the responsive on-screen keyboard that appears only when a customer needs it. The paper-like E Ink display features crisp, clear text that's great for reading anywhere, even in bright sunlight. The no-glare display offers 50 percent more contrast than NOOK 1st Edition.
At only 7.48 ounces (212 grams), the artfully designed All-New NOOK is lightweight and thin — 35 percent lighter and 15 percent thinner than NOOK Wi-Fi 1st Edition. Lighter than a paperback, NOOK's sleek but durable, compact design (6.5 inches high by 5 inches wide by 0.47 inches deep) makes it easy to fit in a jacket, pocket, purse or backpack, holding up to 1,000 digital books and more personal content using the expandable memory slot. Its ergonomic, contoured design with a soft-touch back makes it easy and comfortable to read, even with just one hand, and for extended periods of time. And thanks to best-in-class battery life, read for up to 2 months on a single charge with Wi-Fi off — that's twice as long as the other leading eReader available.
Barnes & Noble's use of the latest-generation E Ink screen and proprietary technology offers unmatched performance on the All-New NOOK, delivering a seamless and immersive reading experience. NOOK offers 80 percent less flashing than other eReaders — whether turning pages, browsing for books or scrolling through your library. Page turns are lightning fast, using the touchscreen or well-placed side buttons, and with the new Fast Page feature, just press and hold a side button to quickly scan through content and skip right to the desired section.
Read Your Way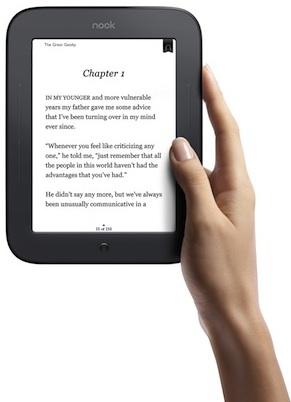 Customers can customize their All-New NOOK and reading experience to their liking. Choose from 7 font sizes and 6 font styles. NOOK owners can personalize their device with one of Barnes & Noble's screen savers or transfer personal photos (JPG, PNG, BMP and GIF) to make NOOK their own, and choose from a complete line of exclusive, new NOOK accessories (www.nook.com/accessories) to show their style wherever they go. They can also create personalized My Shelves to organize their NOOK Library and group reading content similar to their bookcase.
Read Everywhere
A customer's entire NOOK Library follows them wherever they go. They can also easily transfer personal EPUB and PDF files to their All-New NOOK device to read documents on the go using the 2GB internal memory or a microSD card. Since the All-New NOOK is built on Android Operating System 2.1 and uses Adobe technology, device owners can also borrow digital books from their local library, a feature Barnes & Noble has always offered to NOOK device customers. Customers can also read seamlessly, accessing their NOOK Library and sync the last page read across their NOOK devices and their favorite mobile and computing devices using Barnes & Noble's free line of eReading software (www.bn.com/freenookapps).
Price and Availability
The All-New NOOK can be pre-ordered for $139 today and is expected to begin shipping on or about June 10.
Related News and Reviews
→ Nook Color v1.2 Tablet eReader Review (May 2011)
→ Nook Color v1.2 Tablet eReader announced (April 2011)