Innovation-Packed CDP 300 Boasts High-Quality 24-Bit Resolution, Tube Output Stage, and Superb Build Quality and Performance
Koetsu USA, the U.S. distribution arm of the world-renowned Japanese cartridge manufacturer, introduces into the U.S. market the Blacknote CDP 300 CD Player, an advanced-design CD player built with the newest digital components now available. Blacknote, based in Italy, is a supplier of innovative, high-quality digital audio products.
Unlike so many of today's consumer electronics, which are manufactured in China, the CDP 300 is designed and built in Italy. It features 24-bit resolution, several proprietary circuits, an extra-large innovative alpha-numeric display, a vacuum tube output stage, and superb build quality with exceptional attention to detail, all of which contribute to a revealing, accurate, transparent quality of performance present only in the best components.
The CDP 300's innovations are spread throughout its structure, starting with the chassis, which is made of shielded steel and includes a double-thick front panel. It's also coated with an anti-resonance lacquer to help dampen vibrations. The large display can be switched off during play mode to reduce voltage inside the unit. The drawer-type transport mechanism is equipped with Natural Speed™, a proprietary circuit designed manage the speed of the disc to stabilize disc rotation and virtually erase any vibrations generated by the disc's spin.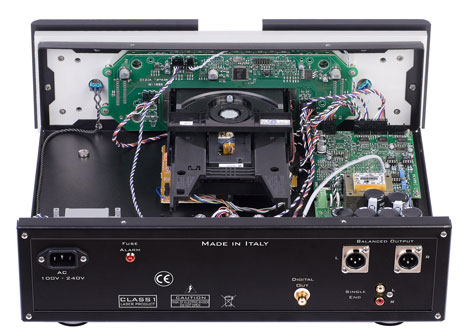 Custom digital-to-analog converters by AKM of Japan and Burr-Brown in the U.S. manage the digital-to-analog stage. This D/A along with the proprietary Balcknote circuit design allow the unit to reach sonic performance hardly available through standard CD players at that price. The proprietary Blacknote circuit design that enables the CDP 300 to deliver real 24-bit resolution with over-sampling higher than the 44.1KHz level of standard CD players. The DACs' superior quality help the CDP 300 achieve a level of sonic performance hardly available from "standard" CD players.
The power supply consists of four different sections managed through four dedicated custom transformers. The transformers send the power directly to the Digital Stage, the Analog Stage, the Transport, and the other powered stages, including the display. Sophisticated, extra large current generators made exclusively by Blacknote stabilize and rectify the power supply.
The Analog Power supply is managed through four microchips using special multi-inductive power supplies. The power supply for the motherboard and the DAC board is decoupled through two specially shaped "fused silicon" transformers.
The CDP 300's clock generator is designed around the Burr-Brown PLL1705 microprocessor, which generates a very low jitter phase error (50 billionths of a second), one of the lowest now available.
The CDP 300 also features a sophisticated analog output stage based around two 6922 vacuum tubes. This is a true balanced tube design created to achieve the best possible performance. A Texas-Instruments microprocessor, programmed with special software, manages basic CD functions and operation. The CDP 300's rear panel includes balanced XLR and RCA outputs, and a 75-ohms digital RCA connection.
The CDP 300 CD Player is available now from authorized dealers for a suggested price of $4,316.
About Blacknote
Blacknote is a division of Goldenote, and a supplier of innovative, high-quality digital audio products designed for demanding audio enthusiasts. Blacknote designs every component in its products, including microchip controllers, digital CD and DVD transports, high-definition wireless and WiFi connections, power supply rectifiers and current generators in cooperation with such companies as Texas Instruments and Analog Devices. As a result, Blacknote offers some of the most innovative audio products available.
About Koetsu USA
Koetsu USA is a vertically integrated distributor of high-end audio products including phono cartridges, tone arms, turntables, preamps, amplifiers, digital players, loudspeakers, cables, racks and other products. Its brands include Koetsu, Chario, Montegiro, Golden Note and Black Note.