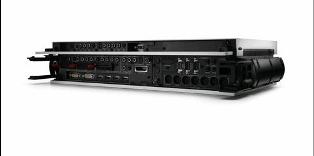 Bang & Olufsen has reconfigured and redesigned the future of visual entertainment in the home
The new BeoSystem 3 is a home cinema master unit for plasma monitor, projector and projection screens, and all peripheral units. The sound stage is not only presented in 5.1 digital surround sound; it can be moved around with up to seven loudspeakers and two subwoofers to suit each of two viewing situations.
BeoSystem 3 is the "stage manager" that offers modularity and customisation on every parameter — connectivity, picture quality, and sound staging. Whether the incoming signal is terrestrial or by satellite, or whether the storage media is HDDVD or BluRay-DVD, all that can be seen is the high-definition picture quality. BeoSystem 3 is much more than HD-ready, and should be experienced with the BeoVision 4 plasma monitor.
"We are already famous for our picture quality, now with BeoSystem 3 we have raised the bar even higher," says Villy Hansen, Senior Product Manager, Bang & Olufsen. "The ability to move the sound stage to precisely your viewing position — whether monitor or projection screen — is innovative and unmatched by others, and what BeoSystem 3 does for peripheral unit connectivity offers protection against technology shifts in the future."
Taking picture quality to the next level
Bang & Olufsen has always been at the forefront of picture quality with the VisionClear package of signal and picture optimising technologies and automatic picture adjustment to viewing conditions. Now, from this very high base, Bang & Olufsen has taken the next step in picture quality. The biggest single factor is that BeoSystem 3 is built on an all-digital platform, and both analogue and digital signals are digitally optimised.
"We describe BeoSystem 3 as 'fully HD', meaning we have gone beyond the requirements of the 'HD ready' standard," explains Villy Hansen. "Colour rendition and noise reduction is improved and we can now selectively monitor and enhance the contrast for the actual picture content, creating an overall improvement in the perception of a 'true to life' picture."
What makes this possible is that BeoSystem 3 can process 1 billion colours from the incoming signal. Previous generations of TV technology could only handle 16 million colours. New sensor technology means that ambient light in the room can be measured at much lower intensities, and the new Dynamic Contrast feature is what makes it possible to selectively monitor and enhance contrast. In addition, BeoSystem 3 is capable of recognising the type and specification of the Bang & Olufsen monitor it's connected to, and various parameters are fine tuned to optimise picture quality.
Move the sound stage
BeoSystem 3 can be connected to both a projector and a panel monitor at the same time. Often, the projection screen and plasma monitor are not placed on the same wall, and yet the sound stage must match the on-screen experience perfectly. BeoSystem 3 makes this possible, with outlets for up to 12 loudspeakers and two subwoofers. Bang & Olufsen's PowerLink cable connections mean that all speaker ports are neutral. Simply plug in the loudspeakers, and programme the sound stage for the particular screen setup for up to seven loudspeakers and two subwoofers for each viewing situation.
This means it is possible to move a 5.1 digital surround sound stage from one part of the room to another, depending on your seating position and screen setup, simply by using the Beo4 remote control. Or BeoSystem 3 can stage a 7.1 channel surround sound experience, with the option of one or two subwoofers. The extra two channels are created at the rear to fill the "hole in the middle" that can be heard in very large rooms.
Technology with benefits
BeoSystem 3 functions as a "hub" for all video-related sources and equipment, built on an all-digital platform, with a multitude of connectivity options that ensures as many peripheral units as may be required can be used. The design and construction offers a breakthrough for what could be a confusing array of connections and cables. All connections are made conveniently at the front and cleverly guided around the sides by the removable front cable cover.
With BeoSystem 3, Bang & Olufsen sets new standards for modularity and customisation of home cinema. Furthermore, BeoSystem 3 ensures that Bang & Olufsen will continue to set the highest standards in the industry for picture quality and sound experience. Convenient and simple operation has been a hallmark of Bang & Olufsen for years, and the Beo4 remote control offers complete management of home cinema, also of lighting and curtains, and can distribute sound and picture around the home with Bang & Olufsen's BeoLink system.
"We have created a global home cinema master unit that will also be the 'engine' in future Bang & Olufsen television concepts," explains Villy Hansen, and concludes: "We have created the ultimate in flexibility for custom installations. We have big expectations for BeoSystem 3, once customers' experience the benefits of BeoSystem 3 as the 'stage manager' powering an unrivalled picture quality and movable sound stage."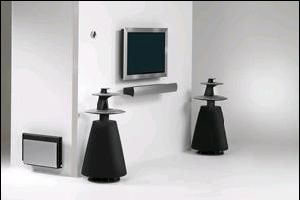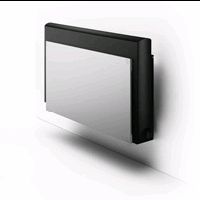 Bang & Olufsen a/s
Founded in 1925 in Struer, Denmark, Bang & Olufsen a/s is world renowned for its distinctive range of quality consumer electronic products that represent our vision: Courage to constantly question the ordinary in search of surprising, long-lasting experiences. The Bang & Olufsen Group manufactures a unique range of televisions, music systems, loudspeakers, telephones, medical, and multimedia products. With more than 2,400 employees and products sold in more than 60 countries worldwide, Bang & Olufsen turnover for the 2004/2005 financial year was DKK 3,742million (EUR 502 million). Further information about Bang & Olufsen a/s is available from www.bang-olufsen.com
BeoSystem 3 specifications – EU
| | |
| --- | --- |
| DESIGNER | David Lewis |
| DIMENSIONS WxHxD / WEIGHT | 53.5 x 33.5 x 10 cm / 8.0 Kg. |
| CABINET FINISH | aluminium/black |
| REMOTE CONTROL | Beo4 (included) |
| POWER CONSUMPTION | Typical:43 W / Standby 0.8W |
Picture:
| | |
| --- | --- |
| TV SYSTEM | According to type and setup: B/G/L/L/I/D/K PAL, SECAM, NTSC on AV. |
| TUNING | 99 programmes, autotune, programme move and automatic naming |
| HD Ready | Yes |
| PICTURE AND PICTURE/TEXT | Yes |
| TELETEXT Level | 2 1/2, 9 memory pages per programme. 2048 pages. National character-set |
| MENU LANGUAGES | English, Danish, Dutch, Spanish, Italian, German, French, Swedish |
Sound:
| | |
| --- | --- |
| STEREO SYSTEM | A2+Nicam Stereo |
| SURROUND SOUND SYSTEM | Dolby Digital 5.1/6.1 EX, Dolby 7.1 EX, Dolby Pro-Logic ll/llx, DTS 5.1. DTS ES 6.1, DTS Neo:6 |
| PLAY TIMER | Yes |
Connections:
| | |
| --- | --- |
| AERIAL INPUTS TV | 75 ohms aerial female |
| DVB-T(optional) | 75 ohms aerial female, DVB-S(optional), F-Con female |
| AV1-6 (Inputs) | 6 x CVBS, 2 x Y/C, 3 x RGB, 2 x component, 4 x HDMI, 1 x VGA, 6 x L/R, 6 x SPDIF(Coax) |
| AV1-2 (RECORD OUT) | 2 x CVBS, 2 x L/R |
| PLASMA DISPLAY AND FRONT PROJECTOR OUTPUT | 2 x DVI-D |
Cinema:
| | |
| --- | --- |
| | D-sub 9 pin, 2 x outputs for control of external functions |
| HEADPHONES | 1 x Mini jack |
| LOUDSPEAKER OUTPUTS | 7 x PowerLink |
| IR CONTROL OUTPUTS | 7 x Mini jack |
| DATA PORT | RS 232 |
| BEOLINK | ML Connector |
| BeoLink VIDEO DISTRIBUTION | 75 ohms aerial male (system modulator output). According to setup: G or I RF output |
| OPTIONAL EXTRA | DVB-S/T module |
| ACCESSORIES | Wall bracket. Large and small cabinet black with front in (black, white, aluminium or tinted glass) |