Belkin announced a new line of wireless home theater products designed to streamline home theater setups and deliver full-HD content to your HDTV without messy wires and cables. The ScreenCast AV 4 Wireless AV-to-HDTV Adapter allows you to wirelessly connect up to four home theater devices to your HDTV from another location up to 100 feet away; while the Universal Wireless AV Adapter and Universal Wireless HDTV Adapter enabler enhanced Wi-Fi performance on Internet-ready smart TVs for wireless video streaming.
ScreenCast AV 4 wirelessly connects your home theater equipment to your HDTV via a transmitter connected to the device's HDMI connection. Installation is easy — simply plug the HDMI transmitter into your source device, such as a Blu-ray player, and plug the receiver into your HDTV. The powerful transmitter enables you to locate AV equipment up to 100 feet away within a room, or hide them in a closet or adjacent room at a reduced distance.
ScreenCast AV 4 allows you to enjoy the best picture and sound quality with full-HD 1080p resolution, 3D video, and up to 5.1 channels of surround sound. ScreenCast AV also gives you total control of your home entertainment system. The included infrared emitter connects to the ScreenCast AV transmitter and relays the signal from your AV devices' remote controls, allowing you to use the existing controllers, even when the devices are located in another room.
Belkin's Universal Wireless products turn any Internet-ready TV into a Wi-Fi-enabled TV and make getting connected to services like Netflix, Pandora, and Hulu Plus easy. Both the Universal Wireless HDTV Adapter and the Universal Wireless AV Adapter work with all brands of Internet-ready TVs and provide dual-band performance for better wireless signals and high-quality 3D and HD video streaming. Both feature easy setup and plug-and-play wireless streaming using your existing home network and wireless router.
The Universal Wireless HDTV Adapter is designed specifically for smart TV applications. Powered by a USB cable that connects to any compatible smart TV, it offers superior wireless performance over USB dongles. Unlike wireless adapters from TV manufacturers, the Belkin Universal Wireless HDTV Adapter works with all brands of smart TVs and can be mounted anywhere on the back of the TV for enhanced streaming capabilities.
While the Universal Wireless HDTV Adapter enables Wi-Fi access for a single Internet-ready TV and mounts directly to the back of the TV through the Ethernet port, the Universal Wireless AV Adapter is designed to connect up to four AV devices for streaming to multiple components. Devices are connected to the Universal Wireless Adapter, which then accesses the Internet through your existing home network. This allows you to have wireless access in your living room even if your router lives elsewhere in the home.
ScreenCast AV 4 Wireless AV-to-HDTV Adapter — F7D4515

Store AV equipment up to 100 feet away or at a reduced distance through walls or closet doors
Enjoy full-HD 1080p resolution, 3D video, and 5.1 channel surround sound
The IR Blaster gives you total device control. Just point your remote at the TV, and ScreenCast does the rest.
Tabletop or wall-mountable receiver, ideal for wall-mounted HDTVs
Easy, professional-looking installation without the professional price. Connect your AV devices to the transmitter and hide them away.
Uses 5GHz spectrum to minimize interference and provide superior audio and video quality
HDCP-enabled; works with protected content like Blu-ray Disc
Compliant with WHDI standard
Available in October 2011 for $249.99
Universal Wireless HDTV Adapter — F7D4555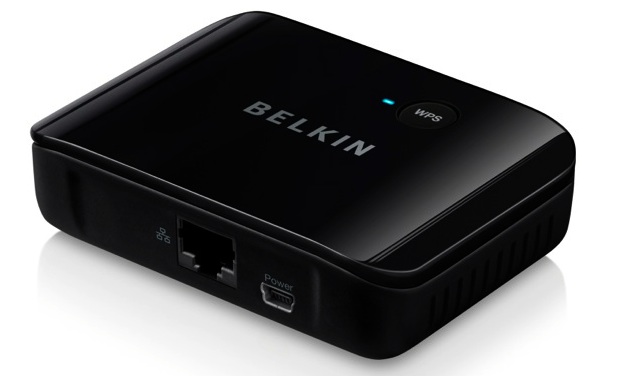 Works with all Internet-ready HDTVs
Optimized for 3D and HD video streaming
Easy setup–mounts to the back of any smart TV via an Ethernet port
USB-powered
User-selectable dual-band 2.4GHz or 5GHz
Available in September 2011 for $79.99
Universal Wireless AV Adapter — F7D4550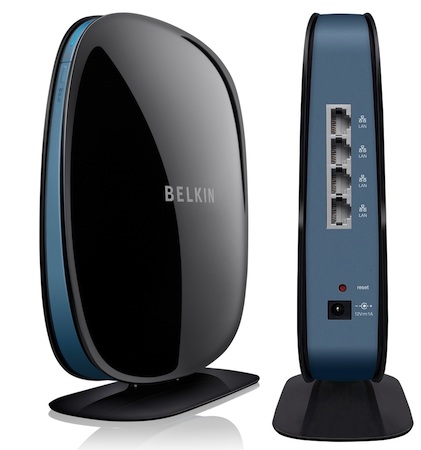 Works with all Internet-ready AV devices
4 x 10/100 Ethernet ports to connect 4 AV devices
Simultaneous dual-band 2.4GHz and 5GHz for fully optimized 3D and HD video streaming
Easy setup using push-button WPS or simple setup wizard
Available in September 2011 for $99.99