Certified by the USB-IF, Belkin's Wireless USB Hub Works with Other Certified Wireless USB Devices
Belkin announces that its Wireless USB Hub now meets the USB-IF's Wireless USB Specification requirements, ensuring compatibility with other Wireless USB devices. The 4-port Wireless USB Hub gives you wireless access to your USB devices, without the clutter of cables.
Simply plug in your USB devices, such as your printer and hard drive, into the Wireless USB Hub. Then, attach the included USB Adapter to your computer. You are now free to roam the room with your laptop while still maintaining 30 feet of wireless access to your USB devices.
Belkin's Wireless USB Hub lets you move your printer, scanner, and storage drive off your desk to make it less cluttered.
AVAILABILITY
September 2007 with launches in Asia, and Europe to follow.
Wireless USB Hub (F5U302) – $199.99
Connects USB printers, cameras, scanners, hard drives, and other devices to your computer
Transfers at speeds of up to 480Mbps
Offers interoperability with other Certified Wireless USB devices, such as printers, digital cameras, and hard drives
Package includes Wireless USB Hub, Wireless USB Adapter, Power Adapter, and Wireless USB Adapter Dock
About Certified Wireless USB
Certified Wireless USB is the first high-speed, wireless personal interconnect technology that combines the speed and security of wired Hi-Speed USB with the ease-of-use of wireless technology. It is backward-compatible with wired USB, allows users to connect up to 127 devices, and delivers a bandwidth of up to 480Mbps at three meters and 110Mbps at 10 meters. Certified Wireless USB is based on the WiMedia Alliance Ultra-wideband Common Radio Platform. For further information, please visit http://www.usb.org/wusb/.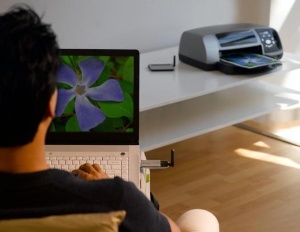 About Belkin International, Inc.
Belkin offers a diverse product mix that provides people with seamless electronics integration in their homes, cars, and on the go. Founded in California in 1983, Belkin is a privately held company and the recognized leader in connectivity solutions, in addition to accessories for MP3 devices, computers, and more. We provide extensive solutions for networking, home theater–with our PureAV line of cables, power, and digital wireless accessories–and many more categories. You can view and purchase them at http://www.belkin.com, as well as through a network of major distributors, resellers, and superstores.
Belkin's phenomenal growth has led to our expanding global presence. In addition to corporate headquarters in Los Angeles, we now have offices throughout Europe–in the United Kingdom, the Netherlands, and Germany, among others–and in the Asia Pacific region, including Australia, Shanghai, and our regional headquarters in Hong Kong.