Bedphones are the headphones designed for sleep. At less than 1/4″ total thickness, you can barely feel the foam-covered speakers lying flat against your ears. Earhooks made from moldable memory wire provide a custom fit. Bedphones are compatible with all devices that accept a standard headphone plug. Satin eye mask and soft, sturdy-sided travel case included.
Lots of people like to listen to music while they drift off to sleep, but most headphones are too uncomfortable to wear in bed. It's a tricky problem, particularly for those who do not wish to treat their partner to their nighttime soundtrack of choice.
Bedphones were conceived by Eric Dubs, a product developer based just outside New York City. With a degree in mechanical engineering, a passion for music and a desire for a great night's sleep, Eric set out to solve an issue plaguing music-lovers and poor sleepers everywhere: no headphones were comfortable to wear in bed. After developing nearly 100 prototypes, Eric found the perfect combination of sound, fit and comfort, and Bedphones were born.
Bedphones feature ultra-light, super-slim earpieces that are cushioned with foam so the user barely feels them lying flat on his or her ears. The extra long (1.5m) cable is joined to the earpieces via earhooks made from mouldable memory wire, which provide a custom fit and ensure that Bedphones stay firmly and comfortably in place, even when the listener is asleep. Bedphones also come supplied with an eye mask and protective carrying case — perfect for traveling.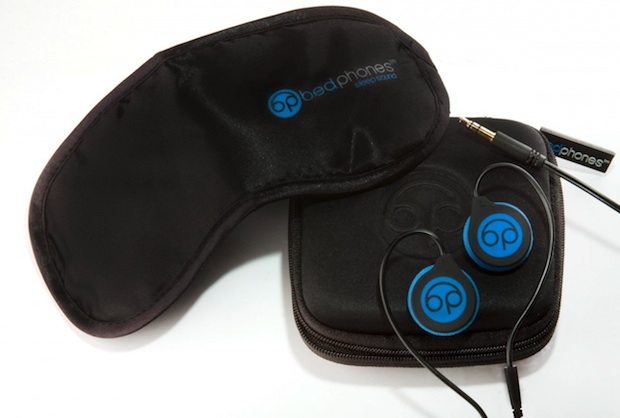 An additional feature for iPhone and Android phone users is a free app called Bedphones Music Controller, downloadable from the Apple App Store and the Bedphones website respectively. The app turns the phone's screen into a big 'pause and play' button, allowing the user to shut off the music with one tap, rather than fumbling for buttons in the dark. Another function, called Smart Mode, turns music off automatically when the user falls asleep, while Timer Mode (Android only) lowers the volume then shuts off the audio after a set period of time. The Bedphones Music Controller can be used with other headphones, too — although Bedphones are its natural bedfellow!
Specifications
Included Accessories: Eye mask and carrying case
Connector Type: 3.5mm
Cable Length: 1.5m
Cable Type: Symmetrical
Impedance: 32 ohms
Frequency Response: 20Hz-20kHz
Sound Pressure Level: 116dB
Form: Supra-aural
Ear Cup: Closed back
Driver Type: Dynamic
Driver Diameter: 23mm
Price and Availability
Bedphones are available now for $29.99 in the U.S. or £26.99 at iheadphones.co.uk.
See more about: New Headphones, Headphone Reviews