Innovative Home and Small Office Collection is First to Solve Technology Challenges of Today's Workspace
BDI, an industry leader in home theater furniture, applies their expertise in integrating technology into the home to develop Sequel office, a groundbreaking home and small office collection.
Dubbed the "best desk" design by Metropolitan Home magazine editors, Sequel was developed to meet the needs of the 21st century office. Designed by Matthew Weatherly, the Sequel collection offers a myriad of innovations to create a fully equipped and organized place to work. Most notably, the Sequel features a proprietary cable management system that includes wire management and magnetically attached panels to conceal messy cords. In addition, an extra-deep Desk drawer combines a full-featured keyboard tray to accommodate and power the latest rechargeable electronics, such as cell phones and digital cameras.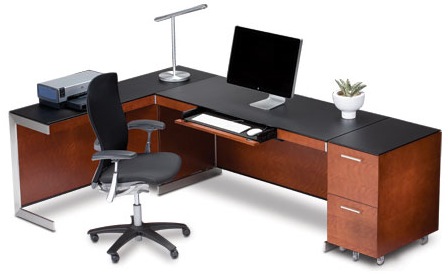 Other unique features of the Sequel include:
A power strip (not included) can attach to the frame of the Desk or Return to provide easy, yet hidden, access for power distribution
Micro-etched, black tempered glass surfaces are non-glare and fingerprint-resistant, perfect for an optic mouse
Two mobile file pedestals include hanger rails to accommodate legal and letter-sized files
A mobile CPU cabinet equipped with flow-through ventilation and cable management
Superior construction consists of satin finished, nickel-plated heavy gauge steel and richly finished wood panels
"The new Sequel Office collection is BDI's entry into smart home and small office design," says Bill Becker, Design Director and CEO. "In spite of a revolution in technology during the last several years, home office furniture hasn't really changed much for three decades. We are really excited to offer a desk that integrates today's technology into the office in such an elegant way."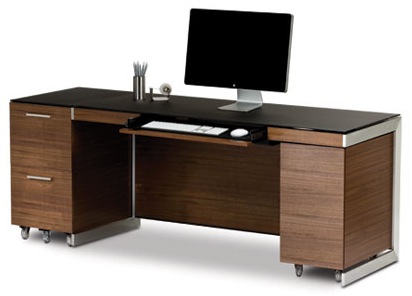 Sequel is available in five models that can be endlessly configured to suit a variety of environments. The Sequel Desk, Return, Tall Mobile File Pedestal, Mobile CPU Cabinet and Low Mobile File Pedestal are available in Natural Stained Cherry, Espresso Stained Oak and Natural Stained Walnut finishes.
About BDI:
Since 1984, BDI has been driven by a passion for innovation and original design. More than simply 'looking good,' BDI specializes in integrating technology beautifully into the home. Our home theater furniture is engineered to present, protect and preserve your AV system for years to come. First to market with integrated features such as hidden wheels and a concealed center channel speaker drawer, BDI has developed a reputation as an innovative industry leader.