Bang & Olufsen announced the BeoPlay A3, a cleverly designed wedge-shaped stand, dock and sound system for any iPad that works in four configurations. BeoPlay A3 offers an enhanced sonic experience for a variety of applications, whether you are listening to music, checking out the latest films or online videos, or holding a video conference with your friends and colleagues. Its own internal accelerometer automatically rotates the left-right stereo sound as you rotate the device.
BeoPlay A3 features Bang & Olufsen's Adaptive Stereo Orientation, which is what makes it so unique. The dedicated motion sensor inside BeoPlay A3 knows what's up or down, and helps render the best possible listening experience depending on the iPad's orientation. An omnidirectional two-inch woofer is always in play, and delivers surprisingly solid bass all the way down to 60 Hz. Half-inch tweeters are placed in the other three corners. BeoPlay A3 decides which two of these to activate according to landscape or portrait orientation, so the listener is always met by highs coming from equidistant sources to enhance the stereo experience despite the small footprint.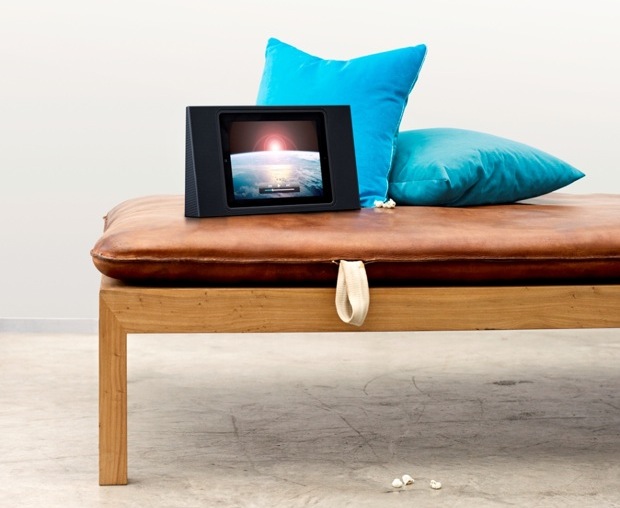 The launch of BeoPlay A3 is the latest for B&O PLAY, Bang & Olufsen's new breed of products designed for the digitally connected. "We're thrilled to present BeoPlay A3 to millions of iPad owners," says VP for B&O PLAY, Henrik Lorensen. "It's a great example of how our acoustic technology and design philosophy work with Apple products, and it demonstrates our commitment to great sound no matter where you are."
The BeoPlay A3's deceptively simple design, created by Danish designer Steffen Schmelling, beautifully conceals everything you don't need to worry about behind a black frame trimmed in aluminium. After popping in the iPad, it's ready to reveal startlingly good sound definition and stereo separation wherever you choose to pick it up and bring it.
BeoPlay A3 is an ingeniously facetted wedge that allows you to fully enjoy all of the iPad's portable charms. It's easy to handle if you want to sit or lie with it, and its rounded edges are easy on both the eye and hand. Lay it on a table and you can tilt it into landscape mode to answer your mails; but it's also happy to tilt to portrait mode as you scroll through a playlist. Stand BeoPlay A3 on a table or desk and it transforms the iPad into an immersive theatre for one — or more — if you want to view videos with friends or share a multi-media presentation with a colleague.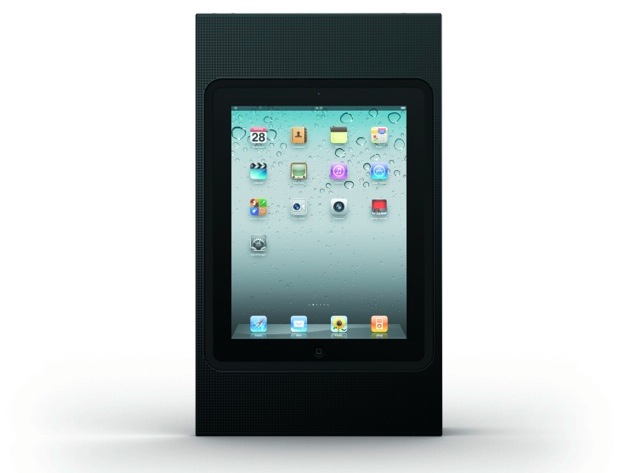 The BeoPlay A3 weighs about 6 lbs (2.9 kg) with an inserted iPad and is designed to make your music mobile around your home, from room to room. The battery keeps the tunes coming for ten hours between charges, and it charges itself as well as your iPad when connected to the mains.
Price and Availability
BeoPlay A3 will first be available in black at the end of May 2012 for $549. Other colors are expected, but no word on a launch date.