.
First Commercial Microsoft Surface Launch to Begin April 17 in Select AT&T Stores With Expanded Deployment Planned Throughout 2008
AT&T Inc. NYSE: T and Microsoft Corp. NASDAQ: MSFT today announced a collaborative alliance that will transform the way consumers shop for mobile devices. AT&T will become the first company in the world to bring Microsoft Surface™ to life in a retail environment, giving customers the ability to explore their mobile worlds using touch and device-recognition technology.
Microsoft Surface is the first commercially available surface computer from Microsoft. Beginning April 17, customers can experience Microsoft Surface in select AT&T retail locations, including stores in New York City, Atlanta, San Antonio and San Francisco. Based on the success and learning from these initial pilot deployments, plans for further expansion across AT&T's 2,200 U.S.-based retail stores will be determined.
Microsoft Surface is a 30-inch table-like display that gives individuals or multiple people the opportunity to interact with devices and content in a way that feels familiar — by using touch, gestures and placement of devices on the display. In essence, it's a surface come to life for exploring, learning, sharing, creating, buying and much more.
AT&T plans to harness the power of Surface to provide its retail store visitors with unique opportunities to learn about the growing universe of mobile applications and devices. The interactive touch displays, which will work without a traditional mouse or keyboard, will allow customers to:
Learn. Customers can review features of a particular mobile device by simply placing it on the display. Surface will recognize the device and provide a graphical overview of its capabilities. Customers can place two devices side by side on the unit and easily compare their features.
Explore. Customers can view interactive coverage maps at the national, state, local or street level, using simple touch and hand movement to scale and move the maps, determining a customer's coverage area.
Customize. In the future, customers will be able to drag and drop ringtones, graphics, video and more by "grabbing" content with their hands from a menu on the display and "dropping" it into the phone.
In addition to these exciting features, AT&T and Microsoft will continue to collaborate on new and innovative ways to expand Surface capabilities in AT&T stores.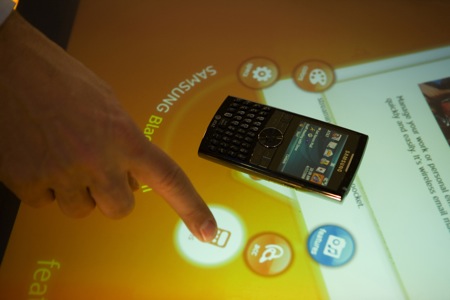 "We are thrilled to bring this groundbreaking new technology to our stores so that we can introduce customers to their mobile worlds in a very personal and easy way," said Ralph de la Vega, president and CEO, AT&T Mobility. "We look forward to working with Microsoft to continue developing new ways for our customers to learn about the ever-growing lineup of mobile devices and applications."
"Microsoft Surface transforms the retail environment from a transaction destination to a customer engagement destination," said Robbie Bach, president, Entertainment & Devices Division, Microsoft. "With innovative and intuitive ways of accessing information and digital content on Microsoft Surface, consumers now have an entirely new, unique and personalized shopping experience. We're excited to have AT&T bring this to life and be the first company showcasing Surface in its retail locations."
AT&T plans to unveil the new displays in stores in New York City, Atlanta, San Antonio and San Francisco on April 17, followed by additional stores in other markets based on the success of the first phase of deployment. Additional information on the launch is available online at http://www.att.com/surface.
About AT&T
AT&T Inc. NYSE: T is a premier communications holding company. Its subsidiaries and affiliates, AT&T operating companies, are the providers of AT&T services in the United States and around the world. Among their offerings are the world's most advanced IP-based business communications services and the nation's leading wireless, high speed Internet access and voice services. In domestic markets, AT&T is known for the directory publishing and advertising sales leadership of its Yellow Pages and YELLOWPAGES.COM organizations, and the AT&T brand is licensed to innovators in such fields as communications equipment. As part of its three-screen integration strategy, AT&T is expanding its TV entertainment offerings. Additional information about AT&T Inc. and the products and services provided by AT&T subsidiaries and affiliates is available at http://www.att.com.
About Microsoft Surface Computing
Microsoft Surface Computing brings to life a whole new way to interact with information that engages the senses, improves collaboration and empowers consumers. By utilizing the best combination of connected software, services and hardware, Microsoft is at the forefront of developing surface computing products that push computing boundaries, deliver new experiences that break down barriers between users and technology, and provide new opportunities for companies to engage with people. More information can be found at http://www.surface.com.