Multi-Source, Multi-Zone Music System with In-Wall OLED Interfaces and Plug and Play Support for iPod & Lighting Control
ATON announced the industry's first pre-programmed Whole House "Music & More" System, the AH66T KT. The new kit features the AH66T Multi-Source Multi-Zone Controller plus six OLED2 touchpads that offer full-color graphic control and feedback. With built-in programming to run market leading sources like the iPort® and Lutron RadioRA®2, the affordable multi-room audio solution allows dealers to rapidly deploy a first-time or add-on audio system with iPod® & lighting control capability ready to go. Bob Williams, ATON's General Manager, made the announcement.
The AH66T is a multi-zone music solution with a built-in, RDS-enabled AM/FM tuner plus six additional sources, rated at 60 watts of power per zone with a line level pre-output for subzones. The controller includes a dedicated IR input for every zone with a full, discrete IR code set for integration. It comes with a full 2-way RS232 code set for control via 3rd party devices where a separate multi-room solution is required. The kit comes with six OLED2 in-wall capacitive touch touchpads featuring full-color OLED displays. OLED, or Organic LED displays, are perfect for displaying the system's metadata text, graphics, channel icons and more. Pair this with interchangeable faceplates in white, ivory and almond and you now have the perfect control solution that matches any decor. The kit also comes with 2 built-in RS232 ports ready for an iPort iPod dock (or two) Metadata ready, or Lutron RadioRA2 Lighting control with codes preloaded. The controller is "stackable" to two chassis for a 12 zone system with tuner pre-outputs to share the AM/FM selections between chassis.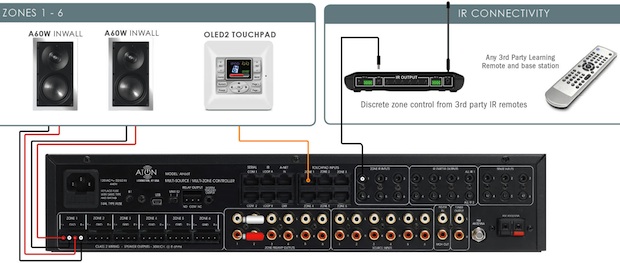 The new ATON OLED2 touchpads tie the system together with the speed, graphics, and response of an LCD touch panel, with the ease-of-use and affordability of a traditional keypad. A radical departure from hard button keypads, this controller offers a 2.1″ display and user-friendly 15-function hard button layout under a film overlay for the largest all-touch surface in a double-gang, in-wall product. The large display, with its six lines of metadata from 2-way sources, provides a detailed view of "Now Playing" information from the tuner and source components such as iPod and optional Sirius Satellite Radio. Each OLED2 comes pre-programmed to control the AH66T, the tuner, and iPort dock for iPods, plus advanced customization is a few clicks away with the new ATON SystemWorx software for Dealers.
Price and Availability
The AH66T-KT Multi-Source/Zone Controller Kit will be shipping in October at an MSRP of $3,599.
The AH66T Controller and OLED2 Touchpad are available separately at MSRPs of $1,599 and $610.
The complete AH66TKT kit ships with the AH66T Multi-Source / Multi-Zone Controller, 6 OLED2 Touchpads, 4 IR Emitters and Talkback Emitters, AM and FM Antennas, 2 DB-9 Male to RJ45 Adapters, a DB-9 Female to Null RJ45 Adapter, 2 RJ45 568A CAT Cables, a Detachable Line Cord , 6 4-Pin Connectors and a 3-Pin Connector.
AH66T Multi-Source Multi-Zone Controller:
6-zone multi-room controller, "Stackable" to two chassis for a 12 zone system
Integrated AM/FM tuner with RDS metadata plus 6 additional audio sources
AM / FM tuner pre-outputs to share tuners between chassis when "Stacked"
60 Watts of audio power per zone
Dedicated 3.5mm IR inputs — for every zone with discrete IR code set available
2 built-In RS232 ports for iPod metadata and lighting control
Out-of-box support for iPort iPod Dock and Lutron Radio Ra2® lighting system
Variable or fixed pre-amp outputs for every zone
Optional Sirius satellite radio support
Compatible with the ATON HRR44 video switcher
Accommodates up to two touchpads per zone
System and zone trigger outputs
Rack mountable using the RMK3 3U Rack Mount Kit sold separately
OLED2 Touchpad:
Breakthrough interface that marries the magic and beauty of touchscreen technology, with the simplicity of a keypad
Capable of controlling 13 devices including sources, lighting and shades
Pre-programmed for independent zone functions, AM/FM tuner, iPort dock and Lutron RadioRA2
Fully customizable using ATON SystemWorx software
3 interchangeable films and faceplates including White, Ivory and Almond with each touchpad