TeleSky™ and 60 SkypeOut Minutes Now Available with Purchase of Two New ASUS Motherboards
ASUSTeK Computer Inc. (ASUS), the worldwide leader of motherboards, today announced that the ASUS TeleSky™ telecom adaptor will now be included in the package of the M2N/TeleSky™ and P5B/TeleSky™ motherboards.
The TeleSky™ telecom adaptor converts ordinary house phones into multi-functional Skype™ phones. It is a highly integrated application for traditional PSTN (Public Switched Telephone Network) and Skype VoIP (Voice Over Internet Protocol) calls. The Skype VoIP system enables users to make free calls online or to dial low-cost calls to external landline and mobile phone numbers using SkypeOut.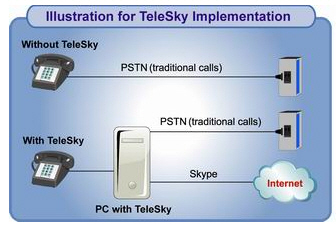 With one jack connected to the house phone and the other linked to the ground telephone line, the TeleSky™ can switch the house phone connection between PSTN and VoIP networks. Users can also use the house phone to operate Skype functions, including SkypeIn, SkypeOut, Skype Conference, call waiting, speed-dial, and 3-way telephoning. The TeleSky™ supports both corded and cordless telephones.
The ASUS TeleSky™ is now available with two ASUS motherboards, the M2N/TeleSky and the P5B/TeleSky. Purchase either one now to receive 60 SkypeOut minutes as well. This offer will only be available for a limited time and quantity.
Dimension
100 x 55 x 15 (mm)
System Interface
USB interface
OS Support
Windows 2000 (SP4)/XP (SP2)/MCE/XP64
I/O
2 RJ 11 connectors for phone and PSTN cable
Features
Dual-mode telephoning: PSTN and Skype
PSTN call (PSTN in / PSTN out )
Skype call (Skype/SkypeIn/SkypeOut/Skype Conference)
Call waiting for Skype
3-way telephoning for Skype
Speed-Dial for Skype
Dial tone customization