ASUS Hits a High Note with Sound and Style — Altec Lansing Speakers & Dolby Home Theater for True-to-Life Audio Performance
With its new infusion technology in design, the ASUS M50 notebook is magnificently stunning at one glance and the interior is equally exquisite. Incorporated with Blu-Ray capability, Altec Lansing speakers and Dolby Home Theater, the M50 provides a high definition digital video and audio experience for exceptional digital entertainment enjoyments. On top of that, the touch pad doubles up as a multimedia control panel for easy control of video or music files, allowing the user to play, stop, pause and do much more at the touch of a finger.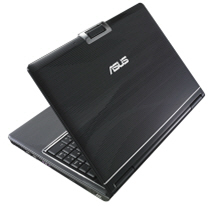 Grand Piano Gloss with High Tech Sophistication
Like the smooth, glossy finish of a grand piano, and as classy as one, the ASUS M50's cover is built using ASUS' exclusive Infusion technology. This not only gives the cover a superb polished shine but also creates a tough coat, highly resistant to abrasions. Stylishly integrated are the icons on the brushed control panel and the speakers with diamond cut rims, the ASUS M50 is a classic new tech in its entirety.
High Definition Performance
As the ideal personal entertainment center, the ASUS M50 comes fully equipped with high definition capabilities. With Blu-Ray support, it delivers vibrant colors and smooth video play back in full HD quality without any loss in transfer when using the HDMI port. Especially rich and robust for multimedia applications, the M50 with advanced graphics solutions supporting DirectX 10 displays images with sharper contrast and incredible details. The M50's audio performance is lifted by ASUS AI Surround technology that intelligently processes audio signals with Dolby Home Theatre and broadcasting through dynamic Altec Lansing stereo speakers to give a crisp and clear surround sound that is nothing short of a life-like cinematic experience.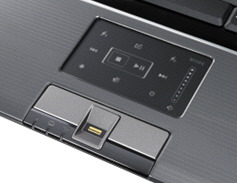 Innovative Dual Mode Multimedia Touch Pad
For greater convenience, a new and innovative interface has been developed especially for multimedia usage. When not used as a cursor platform, the M50's touch pad can turn into a control deck for video or music entertainment. Control the volume, play, stop, pause, mute, skip and more — the user only needs to tap with a finger and it's done. With another quick switch, the touch pad changes back for cursor movements. The user no longer needs to mouse over a control panel to activate multimedia instructions!
Security on the Fingertips
Making use of one of a human beings most unique identification, the M50 protects the user's data with a fingerprint scanner. It utilizes a sophisticated pattern-matching technology and reads directly off the layer of skin on the finger and is almost impossible to breech. With such security, the user can rest assured of full protection, all the time.
Specification
Intel Centrino Duo Mobile Technology
– Intel Core™ 2 Duo T7100~T7700 Processor, Intel Penryn T8100/T8300/T9300/T9500 Processor
– Mobile Intel PM965
– Intel PRO/Wireless 4965ABGN Network Connection; Intel PRO/Wireless 3945ABG Network Connection (optional)
Genuine Windows Vista
– Genuine Windows Vista Basic
– Genuine Windows Vista Home Premium
– Genuine Windows Vista Business
– Genuine Windows Vista Ultimate
nVIDIA GeForce 9500M GS with 512MB VRAM (M50SV);
ATI Mobile Radeon HD3650 with 1G VRAM (M50SA);
ATI Mobile Radeon HD3470 with 256MB VRAM (M50SR)
15.4″ WSXGA+/ WXGA+/ WXGA, Color Shine
DDR2 667MHz, up to 4096MB*, Turbo Memory 1G
*Depends on OS support
Hybrid TV Tuner (Analog & Digital)
9.5″/12.5″ SATA 200G/250G/300G/320G/500G
37.5 x 26.9 x 3.22~4.40 cm