Apple has announced the new Magic Trackpad, the first Multi-Touch trackpad designed to work with your Mac Pro or iMac desktop computer. Its smooth glass and aluminum design provide the same intuitive Multi-Touch gestures which have been available on MacBook Pro notebooks.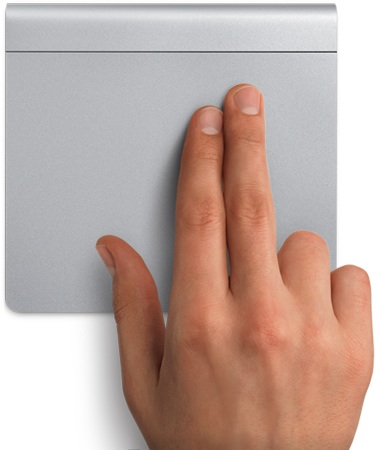 The Apple Magic Trackpad supports a full set of gestures, giving you a whole new way to control and interact with what's on your screen. Swiping through pages online feels just like flipping through pages in a book or magazine. And inertial scrolling makes moving up and down a page more natural than ever. Magic Trackpad connects to your Mac via Bluetooth wireless technology. Use it in place of a mouse or in conjunction with one on any Mac computer — even a notebook.
The largest Multi-Touch trackpad ever
Magic Trackpad is just like the trackpad on the MacBook Pro — but bigger. It's made with the same advanced touch-friendly and wear-resistant glass surface. But with nearly 80 percent more area, it's the largest Multi-Touch trackpad made by Apple. So there's even more room for you to scroll, swipe, pinch, and rotate to your fingers' content. And since the entire surface is a button that clicks, you can use it in place of a mouse.
A perfect fit
Magic Trackpad features the same sculpted aluminum design as the Apple Wireless Keyboard, and side by side the two sit flush at the same angle and height. Go from typing to gesturing in one motion, or do both at the same time.

Price and Availability
Magic Trackpad (Part number: MC380LL/A) is available now from the Apple Store for $69.