The C5 and C10 Provide Superior Power Filtering and Surge Protection for High Performance A/V Components
CES Las Vegas, NV, Jan. 5, 2006 — American Power Conversion (APC) (Nasdaq: APCC), a world leader in power availability and protection solutions, today announced two innovative power filters designed exclusively for the home audio/video (A/V) market. The new APC C5 and C10 A/V Power Filters help eliminate power anomalies such as surges or electro magnetic and radio frequency interference (EMI/RFI) that threaten component hardware, A/V signal integrity, and system availability.
APC designed and tuned the C5 and C10 specifically for A/V environments. The C5 provides ten surge-protected and filtered outlets and the C10 offers 12 similar outlets to ensure protection for all A/V components. The units also offer EMI/RFI noise filtering banks for digital, analog, video, and high-current (amplifier, subwoofer) devices.
Each bank is isolated to prevent noise from polluting other connected devices. The C10 adds an additional feature with sequenced outlet banks to prevent stress or damage to the speakers as each component powers up. Each model offers "best in class" surge protection with a <85Volt let-through rating.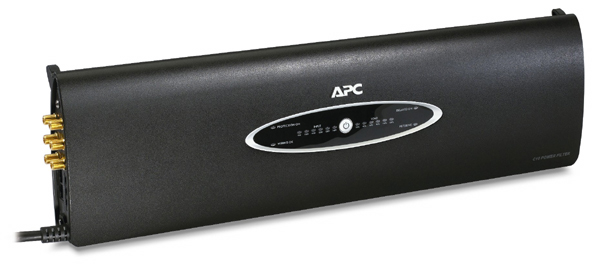 "APC is very excited to bring its legendary power engineering expertise to the A/V mass market," said Joe Loberti, general manager of APC's Consumer Networks Solutions Group. "With the increasing growth of home entertainment electronics such as Plasma TVs, DLP projectors, high-end AVR's, satellite receivers, DVRs, and media PCs it's important that they are well protected from damaging surges and spikes. The C5 and C10 are affordable solutions that help ensure optimal audio and video performance, as well as protection of datalines."
Each new unit provides Gold Coax (two sets on C5, three sets on C10) and phone jack surge protection that offers an additional safeguard for incoming signals. The C10 also has an Ethernet jack plus a DC trigger for remote sequenced power, as well as a power voltage indicator and LED load bar that displays incoming line voltage and available capacity. The C5 and C10 both carry safety certification from UL, FCC, and CSA. Both models feature an attractive and bold brushed aluminum chassis using high quality construction and materials that will complement any high performance A/V system.
APC's new C Type Power Filters include an Equipment Protection Policy (EPP). If properly connected equipment is damaged due to the failure of APC's C5 or C10, APC will pay to repair or replace that equipment up to $350,000 (see policy for details).
The C5 and C10 will be available in North America during the fourth quarter of 2005. The C5 model has an estimated resale price of $99; the estimated resale price of C15 is $179.
For more information about APC and other innovative power protection availability solutions please call 800-877-4080 or visit www.apcav.com.
About American Power Conversion
Founded in 1981, American Power Conversion (Nasdaq: APCC) is a leading provider of global, end-to-end infrastructure availability solutions. APC's comprehensive products and services for home and corporate environments improve the availability, manageability and performance of sensitive electronic, network, communication and industrial equipment of all sizes. Headquartered in West Kingston, Rhode Island, APC reported sales of $1.7 billion for the year ended December 31, 2004, and is a Fortune 1000, Nasdaq 100 and S&P 500 Company. All trademarks are the property of their owners.
# # #