All passengers can benefit from Alpine Electronics of America, Inc.'s rear-seat entertainment products.
Alpine's video and rear-seat products fit in various vehicle set-ups and can handle almost every entertainment source, from DVDs to iPod Video content, with plug-and-play ease. Options include an all-in-one overhead monitor/DVD player package, as well as a headrest-mounted monitor package that enables users to listen to and view two different sources at the same time. Alpine also offers a variety of headphones for easy system expansion so that no passengers miss out on the fun.
KEY PRODUCTS:
PKG-RSE2 DVD Rear Seat Entertainment Package
• 10.2-inch flip-down WVGA monitor boasts 1.15 million pixels for excellent picture quality
• Auto-DVD Play function allows users to skip the DVD's previews and menu, and go directly to the start of the movie
• Top panel controls offer easy accessibility for rear-seat passengers
• Convenient "Mom/Dad" button on the front of the unit allows the driver to easily control the Play/Pause and Power On/Off functions from the front seat
• Accepts high-quality S-Video input from sources such as a camcorder, game console or Alpine's DHA-S690 DVD changer
• Comes with one pair of wireless headphones and RUE-4159 universal remote control
• 2 AUX inputs/1 AUX output provide connections to additional sources such as iPod Video (requires third-party adapter cable)
• Available now; suggested retail index $800
PKG-M780 Dual 7-inch Headrest Monitor Package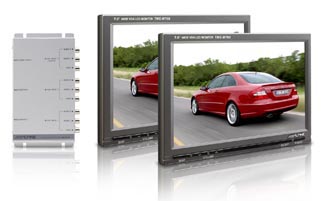 • Comes with two TME-M780 7-inch WVGA monitors with 1.15 million pixels and two SHS-N205 dual-source wireless headphones with fold-flat design for easy storage
• Small hideaway control box supplies independent signals to both monitors, so rear-seat users can have two different entertainment sources playing at the same time
• Three A/V inputs allow users to add all their favorite sources
• Headrest monitors have a thin profile for easy headrest installation
• Comes with headrest mounting kit to create a flushed headrest installation
• Thin monitor cable is small enough to run down inside the hollow headrest pole
• Headphones feature auto turn-off so batteries last longer
• Available now; suggested retail index $750
DHA-S690 6-disc DVD Changer



• DVD-Video/Video CD/Audio CD/DivX playback
• DVD Audio (2-channel down-mix) playback
• WAV/MP3/WMA/AAC playback
• Dolby Digital and DTS output
• Remote control included
• Available now; suggested retail index $450
SHS-N252 Dual Source Wireless Headphone System
• Includes two headphones and IR transmitter
• Independent source selection
• Available now; suggested retail index $160
SHS-N205 Dual Source Wireless Headphone
• Independent source selection
• For use with PKG-RSE2 or PKG-M780
• Available now; suggested retail index $50
SHS-N100 Single Source Wireless Headphone
• Additional headphone for PKG-RSE2
• Available now; suggested retail index $20
AVAILABILITY:
Alpine products are available at authorized Alpine retailers.