Acer RevoCenter stores, organizes and protects your entire digital media library on the same device, where it can be enjoyed and shared by your family and friends. Best of all, the RevoCenter can be used as the clear.fi media server, letting you stream digital media content to multiple applications or clear.fi enabled devices, making it possible to share games from the server or enjoy music, photos and movies on a big screen TV. For even greater interoperability, RevoCenter is DLNA certified.
Compact and stylish, with a matte black satin finish the Acer RevoCenter fits anywhere in the home. The front door, embellished by an elegant copper detail, hides four hot-swappable hard disks slots for a maximum capacity of 8TB. Easy to add — just insert the disk in the slot and follow the simple setup – and to swap they provide effortless scalability and plenty of room for growing digital libraries.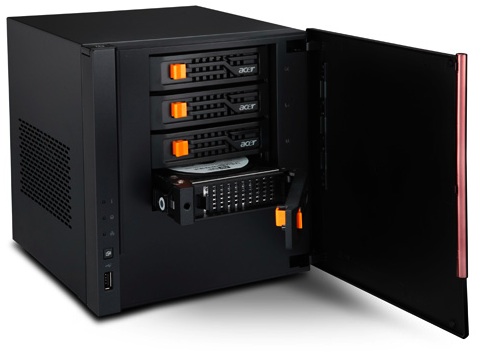 The Acer RevoCenter can make automated full-image back-ups of all the computers in your home every day, so you don't have to worry about hard disk crashes or human errors. Once data are backed-up, restoring files, folders or entire computer is a straightforward process. Once you have identified which backup you wish to restore, you just click on the relevant backup and walk away until its complete. The restore wil include all the data and applications setup in the same way as before.
You can save pictures, movies or data from any device connected to your home network, so that they can easily be shared and enjoyed through Acer clear.fi media sharing system. You can also upload multimedia files directly from your camera or USB key. Simply connect the device and press the one-touch USB Copy button. Data is automatically sorted and stored by file type into folders of your choice.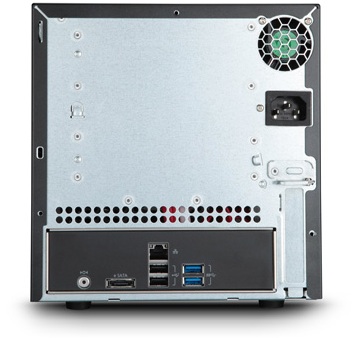 The Acer RevoCenter not only keeps your data safe, but also always within easy reach. In fact, the home server can be remotely accessed through the Internet via a secure personal web address. A user friendly web interface will help you connect to your sever anytime, anywhere and upload or download files, connect to your home computer or manage the server.
| | | |
| --- | --- | --- |
| | AH341-U1T2H ( PG.T1A0W.003 ) | AH342-U2T2H ( PG.T1B0W.002) |
| MSRP | $399.99 | $499.99 |
| Operating System | Windows Home Server – 64-bit version | Windows Home Server – 64-bit version |
| CPU | Intel Atom D410 Processor (1.66GHz, 512KB L2 cache) | Intel Atom D510 Processor (1.66GHz, 1MB L2 cache) |
| Memory | 2GB DDR2 | 2GB DDR2 |
| Storage | 1TB variable rpm hard drive | 2TB variable rpm hard drive |
| Ports | Intel ICH9R Express chipset, gigabit LAN, 5 USB, eSATA, 1 PCIe x1, up to 4 3.5″ bays, 1-year limited warranty | Intel ICH9R Express chipset, gigabit LAN, 5 USB, eSATA, 1 PCIe x1, up to 4 3.5″ bays, 1-year limited warranty |
Reviews Around the Web:

acer revocenter media