Acer introduced the H9500BD DLP home entertainment projector, which provides high-end movie-quality 1080p Full HD projection and support for the latest 3D technologies, including instant 2D-to-3D conversion in high definition.
Home theater enthusiasts will enjoy video, game content, photos and more in an incredible new level of realism and video immersion using the new Acer H9500BD projector. Delivering Full HD 1080p (1920×1080) resolution, the Acer H9500BD is the ideal projector for widescreen movies created in HDTV and Blu-ray Disc formats. With it, customers will experience exceptional cinematic quality with true-to-master precision in projection sizes ranging from 20-300 inches diagonally.
The new projector supports multiple popular 3D technologies, such as Blu-ray 3D and DLP 3D for movies, as well as NVIDIA 3DTV Play and 3D-compatible gaming consoles. Customers can use the dual HDMI 1.4 ports to connect the projector to these devices, as well as a PC with 120Hz output and 3D software. When combined with the included Acer ActiveShutter 3D glasses, customers will enjoy a compelling three-dimensional experience. Acer 2D-to-3D technology automatically converts any 2D signal into 3D, whether it's a picture or a video.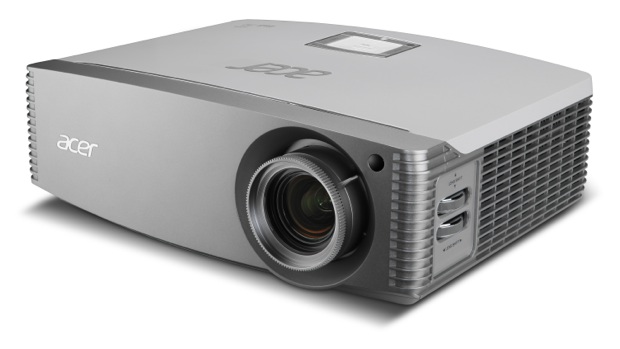 Additional features in the Acer H9500BD further enhance the overall image quality. AcuMotion improves picture clarity in fast-moving scenes by generating new frames to create smoother video and reduce motion blur. A 50000:1 dynamic contrast ratio means darker darks and whiter whites while maintaining image crispness and detail. Advanced lamp technology with illumination of up to 2000 ANSI lumens paired with ColorBoost II and ColorSafe II technologies heightens the color and clarity of the images.
Designed to be easy to use in a home environment, the Acer H9500BD displays images in native 16:9 aspect ratio, and can be adjusted to a 4:3 aspect ratio. The lens shift feature provides flexible placement options and eliminates image distortion. In addition, the projector is easy to connect to video sources, as it detects input signals as soon as a source is connected, eliminating time spent signal scanning. It can project images both front- and rear-screen and can be ceiling mounted.
Along with its two HDMI ports, the Acer H9500BD projector has a fully-digital DVI-D port that supports HD digital signal and HDCP for a secure connection to a variety of media sources. It is also equipped with two sets of D-Sub and audio connectors, allowing dual-PC source input for more flexible connectivity and instant switching. Additional ports ensure the projector can connect to a wide range of video sources; it has three RCA jacks, component video, S-video mini DIN, and 2.5mm audio mini-jack. These multiple ports support the projector's Picture-in-Picture display capability.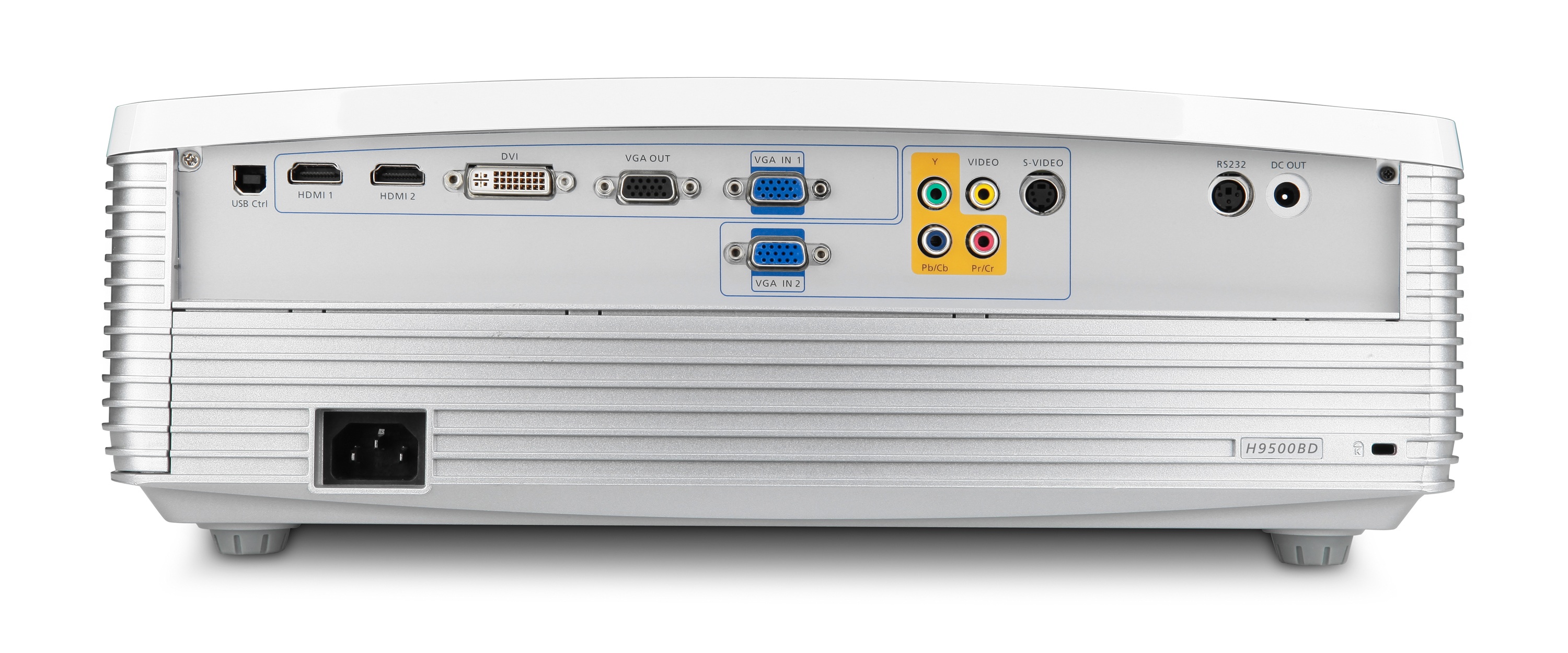 Acer EcoProjection makes the Acer H9500BD environmentally friendly by reducing standby power consumption from five watts to only 0.5 of power per hour. Additionally, it delivers 20 percent additional power savings if it does not receive a signal input after five minutes. The long 2500 hour lamp life reduces replacement costs and ensures long-term, dependable projector use.
The Acer H9500BD has a user-friendly design with an intuitive control pad on the top for quick control and access. The metallic, matte finish has rounded contours and a sleek look that will blend well in the home. It weighs 15.9 pounds and measures 15.7-inches (W) by 12.2-inches (D) by 5.1-inches (H).
Price, Availability and Warranty
The Acer H9500BD projector is available now for customers in the United States at leading VARs and retailers for a manufacturer's suggested retail price of $1,999.99. It is backed by a one-year warranty.
See more about: Newest Projectors, Acer Projectors, DLP Projectors, 3D Projectors