Acer announced its first Ultrabook, the Acer Aspire S3 laptop with a 13.3-inch high definition, LED-backlit display, full chiclet-style keyboard, choice of 2nd generation Intel processors and up to a 500GB SSD hard drive. The ultra-slim laptop is encased in a light metal design that is hair over a half-inch thick.
Innovative Acer Green Instant On technology provides instant-resume functionality and ensures battery longevity, while Acer Instant Connect can access the Internet in just 2.5 seconds. With two sleep modes, the Aspire S3 can resume in a mere 1.5 seconds or from Deep Sleep in 6 seconds. With these energy-conscious innovations, Acer claims the Aspire S3 battery life can last up to 50 days.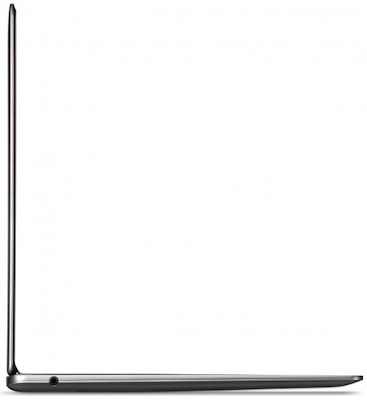 The Aspire S3 measures 1.3 cm thin and weighs less than 1.4 kg (3 lbs.) It's also equipped with a full-size Acer FineTip chiclet keyboard, designed for comfortable use and maximum productivity. All-day usability is assured by a super-lightweight, high-density battery that delivers up to 7 hours of juice. The aerodynamic design of the Aspire S3 features a strong and lightweight aluminum/magnesium alloy chassis, and a lid with a fingerprint-free metal finish that feels as smooth as silk.
The 13.3″ ultra-thin HD LED display adopts an open cell design to conserve materials by using the lid and bezel to form an aluminum frame for the screen. This creates a super-slim yet protective profile and reduces the energy required during manufacture as compared to conventional panel designs.

The Aspire S3 features a vent-free bottom so the notebook rests comfortably on the user's lap. Warm components are smartly placed away from the palmrest and touchpad area, so users won't feel any heat discomfort. Further innovation is offered via a new airflow design that dissipates warm air from the rear of the notebook, preventing air from blowing towards the user's hands. Finally, the fan motor is optimized to enhance efficiency and lower power consumption to help increase system battery life.
The Aspire S3 features the latest 2nd generation Intel Core i3/i5/i7 processors for full computing and digital creation capability, and a choice of 240GB SSD or 320/500GB HDD with embedded SSD for ultra-fast access and ample media and data storage. Packing professionally-tuned Dolby Home Theater v4, the Aspire S3 delivers vibrant, cinema-style surround sound and enhanced dialogue quality for optimum listening experiences. Standard HDMI output is also included for connecting the Aspire S3 to popular HD peripheral devices for high-def digital/video playback and extension. Furthermore, users can quickly and easily share data or download photos from their digital cameras using the 2-in-1 card reader that supports SD Cards and MultiMediaCard.

The Aspire S3 includes an integrated Acer Crystal Eye 1.3 megapixel camera and microphone — with superior Wi-Fi connections guaranteed by Acer InviLink Nplify 802.11b/g/n Wi-Fi CERTIFIED technology. Wireless convenience is enhanced by the addition of latest-generation Bluetooth 4.0+HSR technology with lower power consumption.
Price and Availability
The Acer Aspire S3 will be available select regions in September 2011 for 799 to 1199.
Similar Products:
Apple MacBook Air
Toshiba Portege Z830 Series Ultrabook